Wolves Summit Vienna on 20-21 October 2022 organized with our Cooperation Partner, Vienna Business Agency and City of Vienna, was a success. Startups from all over the world had an opportunity not only to meet the Investors or their potential clients and business partners during 1:1 matchmaking sessions but also present their ideas on the Main Stage. The Startup Showcase was a chance for talent-seekers to discover new tech ideas and scout for investment or collaboration opportunities. Here is a list of 13 most promising Startups we chose because of their potential and impact they aim to make.

5 big winners
Although Startup Showcase wasn't a competition, Wolves Summit Team and the Mentors who were asking questions and giving instant feedback live on stage, decided to choose 5 winners. Let's give them a special shoutout!
1st place winner - CircutMess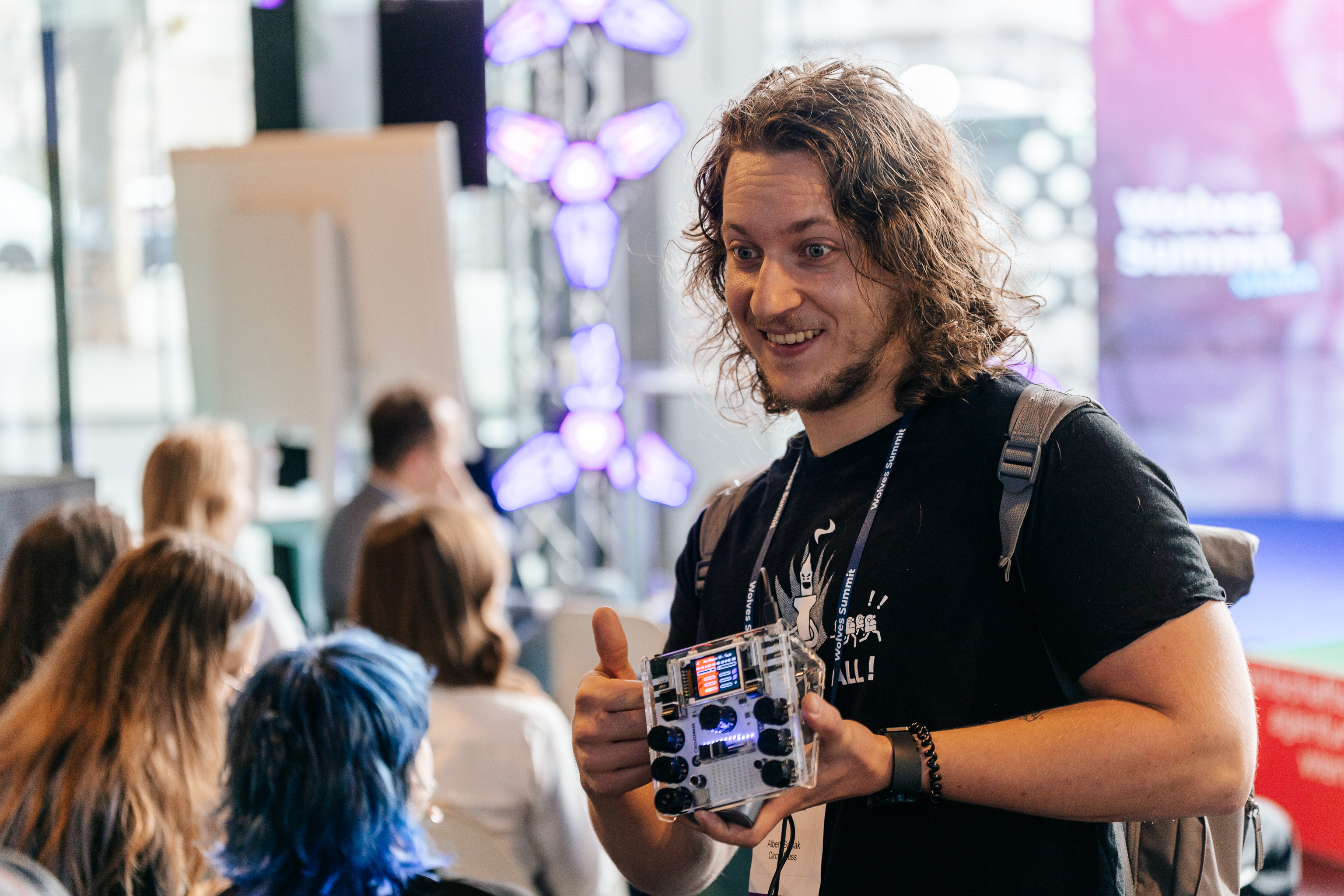 CircutMess is a Zagreb-based startup empowering kids and adults to a hands-on STEM experience. The team of young individuals works on software & hardware development and manufactures fun & educational DIY electronic devices for both kids and adults to fix and promote science-based play and play-based education. The company was represented by the CEO, Albert Gajšak.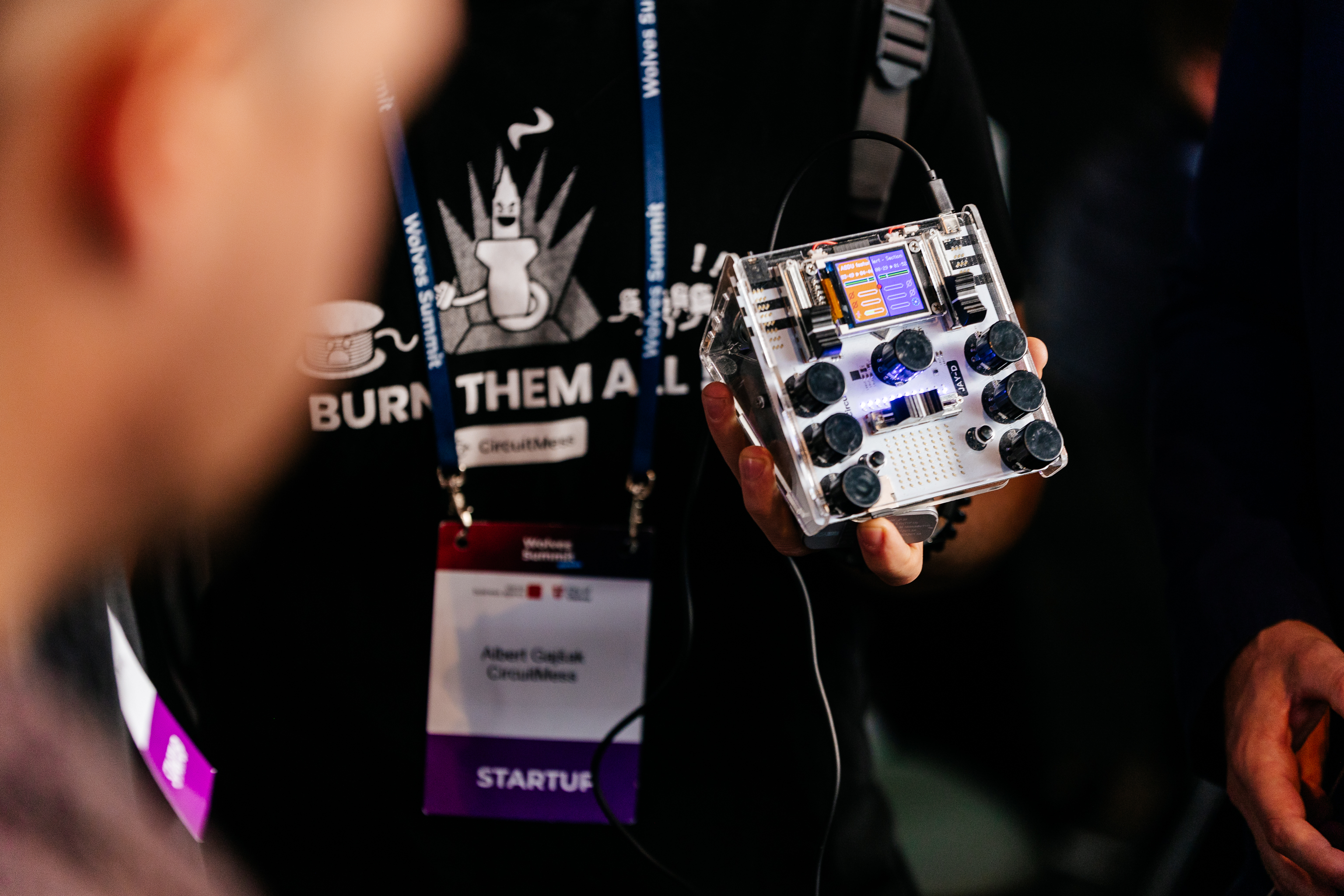 2nd place winner - QuickLegal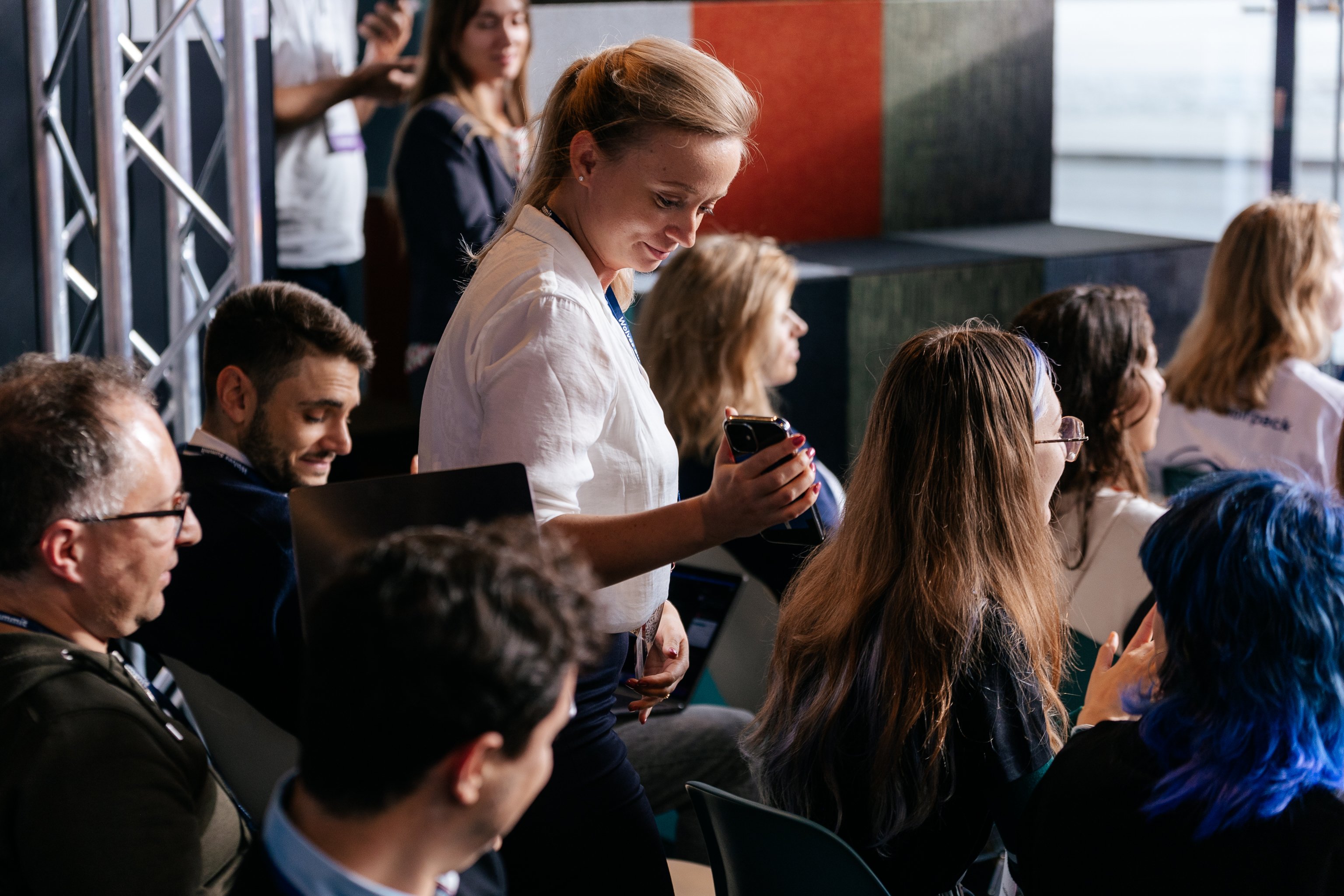 QuickLegal is a legal marketplace that brings together individuals or SMEs in need of legal assistance with specialized lawyers.
Their vision: to democratize the legal services in Romania by integrating state-of-the-art technologies within the legal field.
Their Scope: to inform people about the law and put them in touch with the right lawyer.
Their Mission: bridging the gap between people in need of legal information or legal assistance and legal professionals. The engaging presentation was held by the Founder & COO at QuickLegal, Iulia Caizer.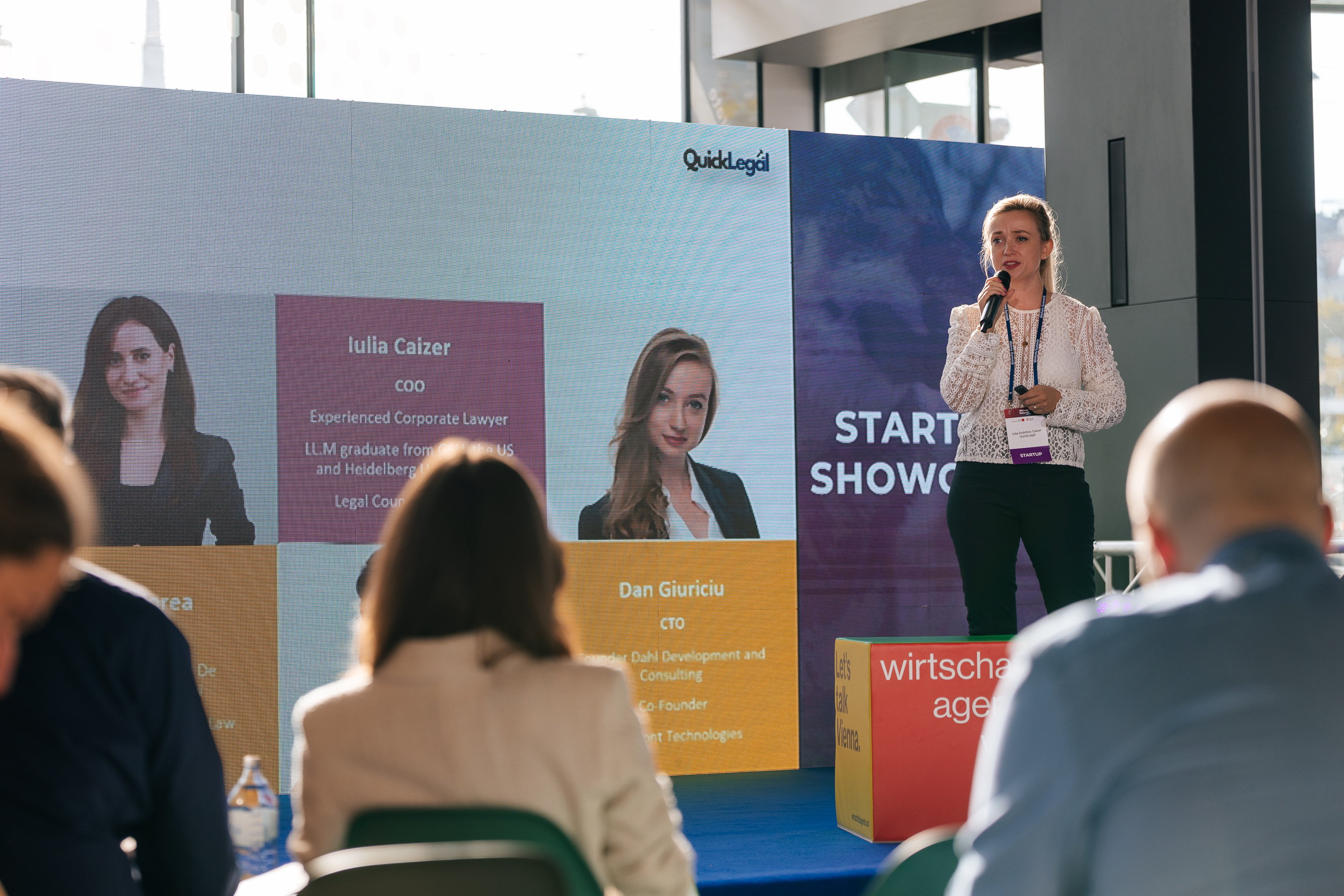 3rd place winner - Green Li-ion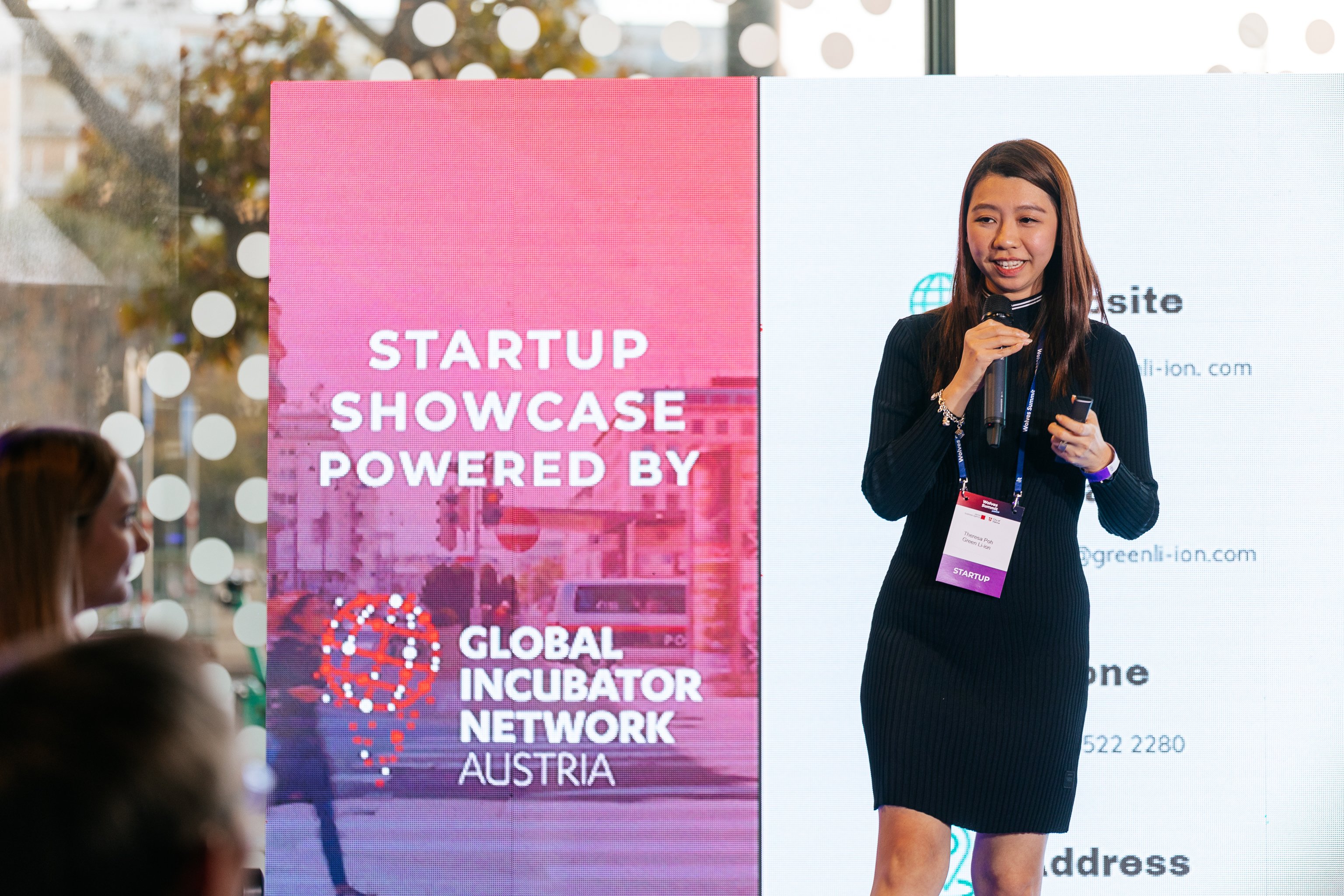 Green Li-ion is a developer and provider of innovative battery recycling technologies that have the potential to revolutionize the global battery recycling sector. The Company's technologies are modular processing plants which will enable battery recyclers and battery manufacturers to address the pressing need for greater levels of sustainability and security of supply. Theresa Poh was representing the company on the Main Stage during the Startup Showcase slot powered by Global Incubator Network Austria.
4th place winner - FINQware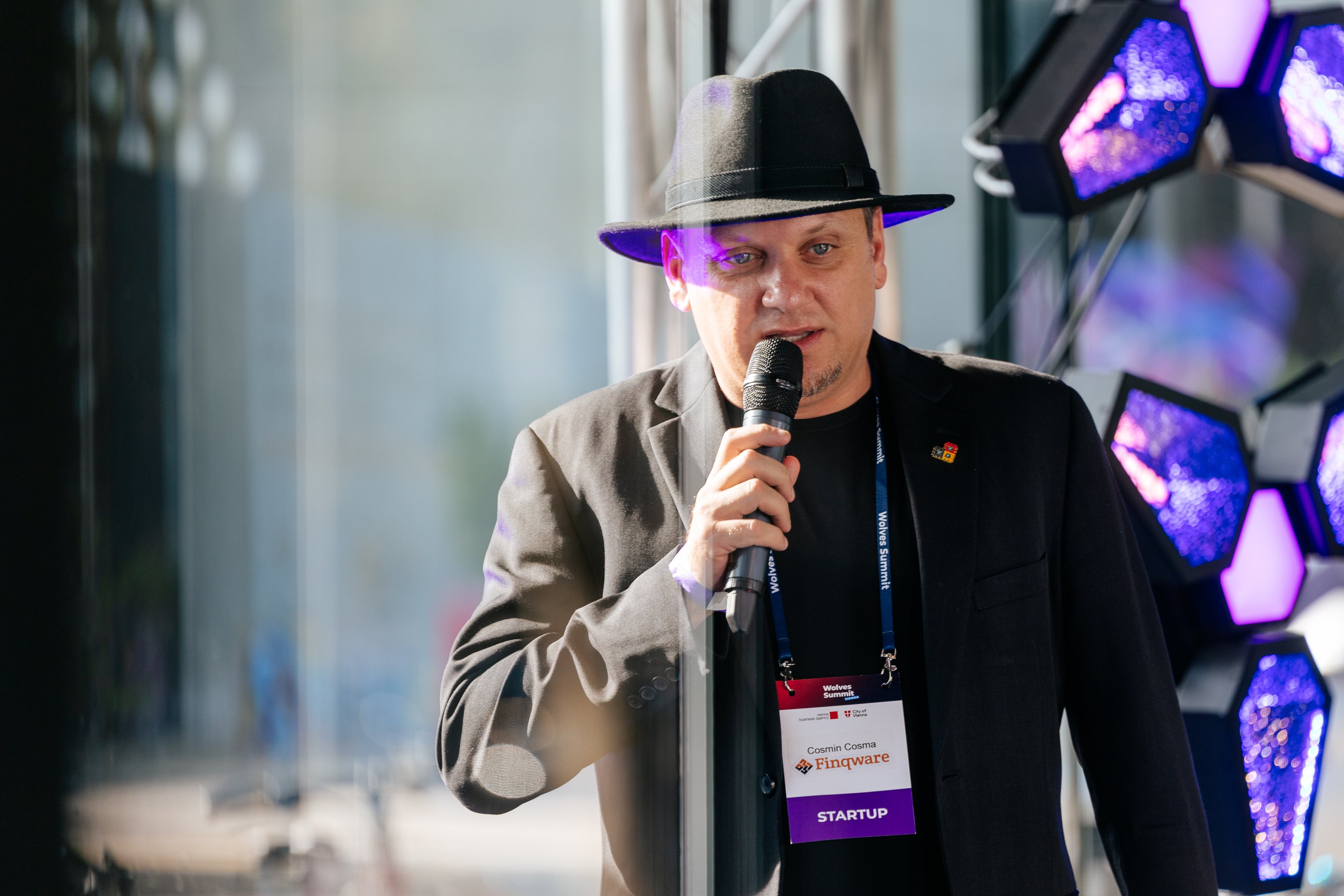 FINQware develops technologies & products in order to put the "open banking"​ at work, giving people tools to be wiser with their money. Their vision is to connect all 350 banks in Central, Eastern and Southern Europe into one trusted middleware.
Headquartered in Bucharest, Finqware was established in 2018 by a team of fintech enthusiasts, each with a strong background in either banking or core IT infrastructure. Cosmin Cosma (who presented on the Main Stage during Wolves Summit Vienna) as Business development lead, together with Dumitru Taraianu, our Technical mastermind, and Danut Covalciuc, our chief of Operations, decided to start the company and leverage the global transformation of the financial industry to the new interconnected API economy.
5th place winner - Sweet Tech (Handy)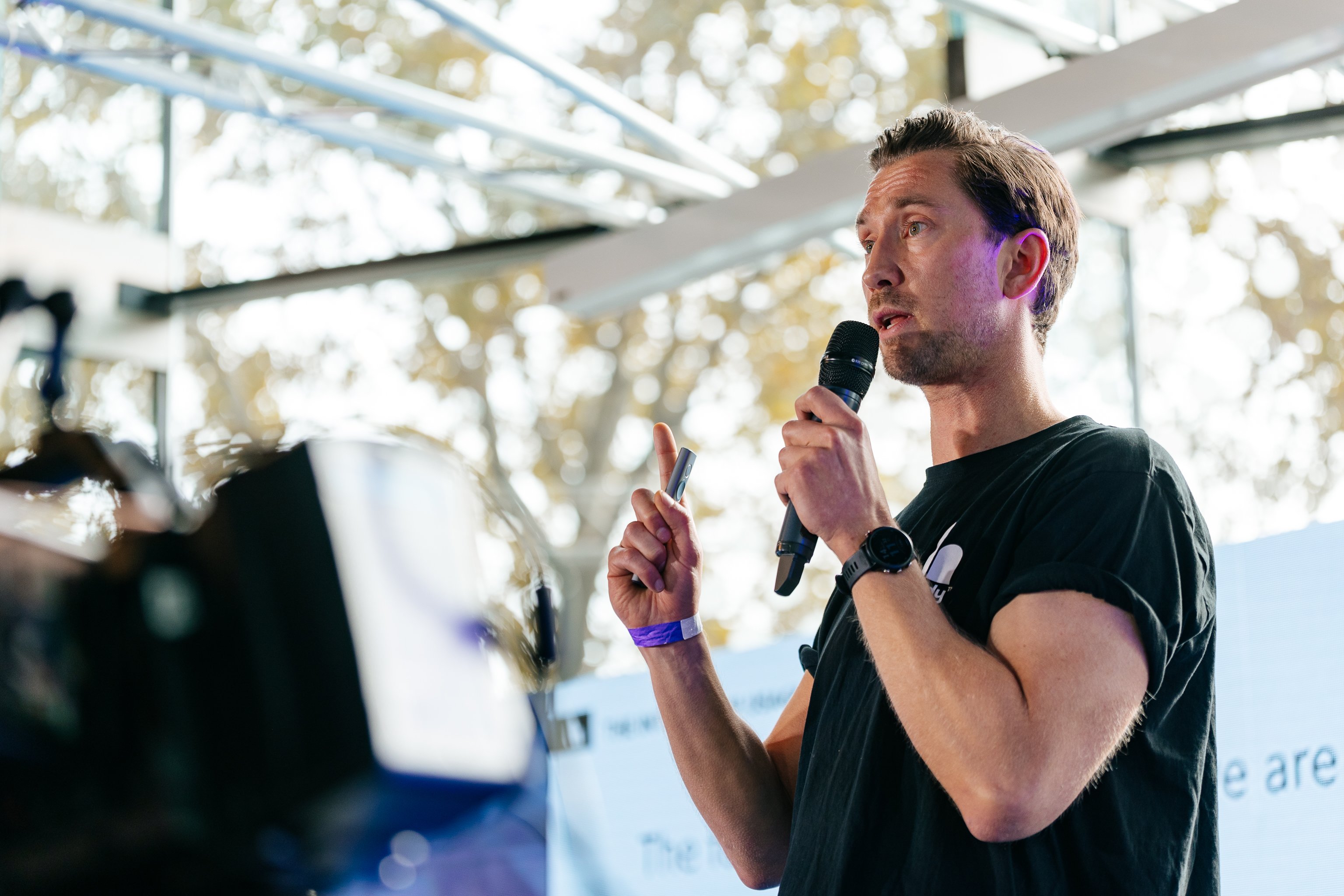 The Handy is an upscale automatic stroker designed and developed by SweetTech AS, a Norwegian company that has its headquarters in Oslo, Norway. Founded in 2017 by cybernetics engineer Alexander Bjorkmann, Economist Jens Petter Wilhelmsen (who represented the company with an exciting and engaging showcase in weXelerate, Vienna, during Wolves Summit Startup Showcase) and investor Nicolay Bang, the Handy is built with innovative design and high quality at its core.
They believe that the most exciting solutions are best created through collaboration, which is why the Handy has an open API to allow the community to create apps and software that can work together with the Handy.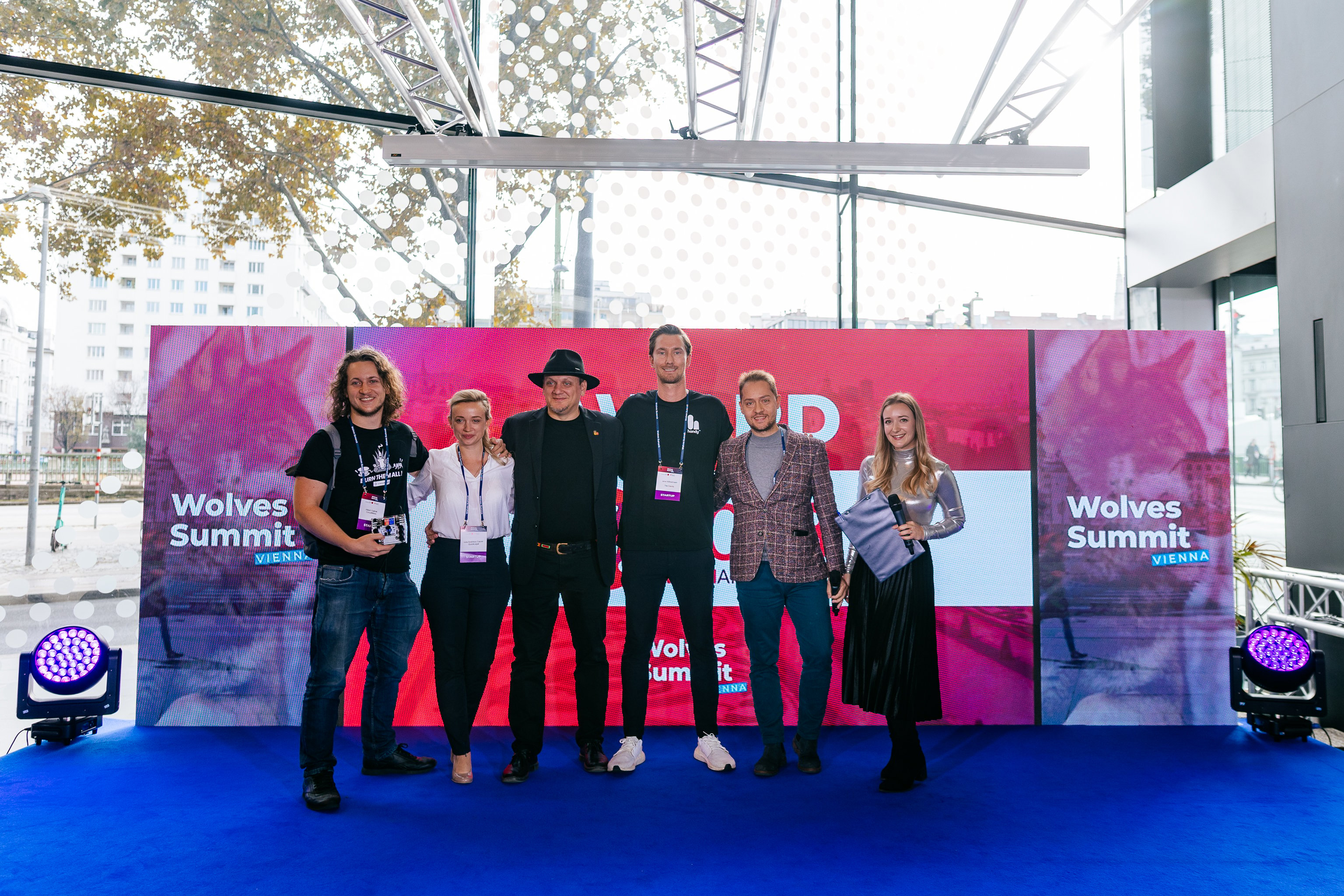 Best AI Startup prize - Synaptiq
AI Startup Incubator selected Synaptiq and awarded them with a fast-track to investment board committee meeting and a chance to get up to €250k EUR funding. Learn more about AI Startup Incubator and how they backed Wolves Summit alumni during the previous editions from the interview with Angelo Burgarello, Managing Partner.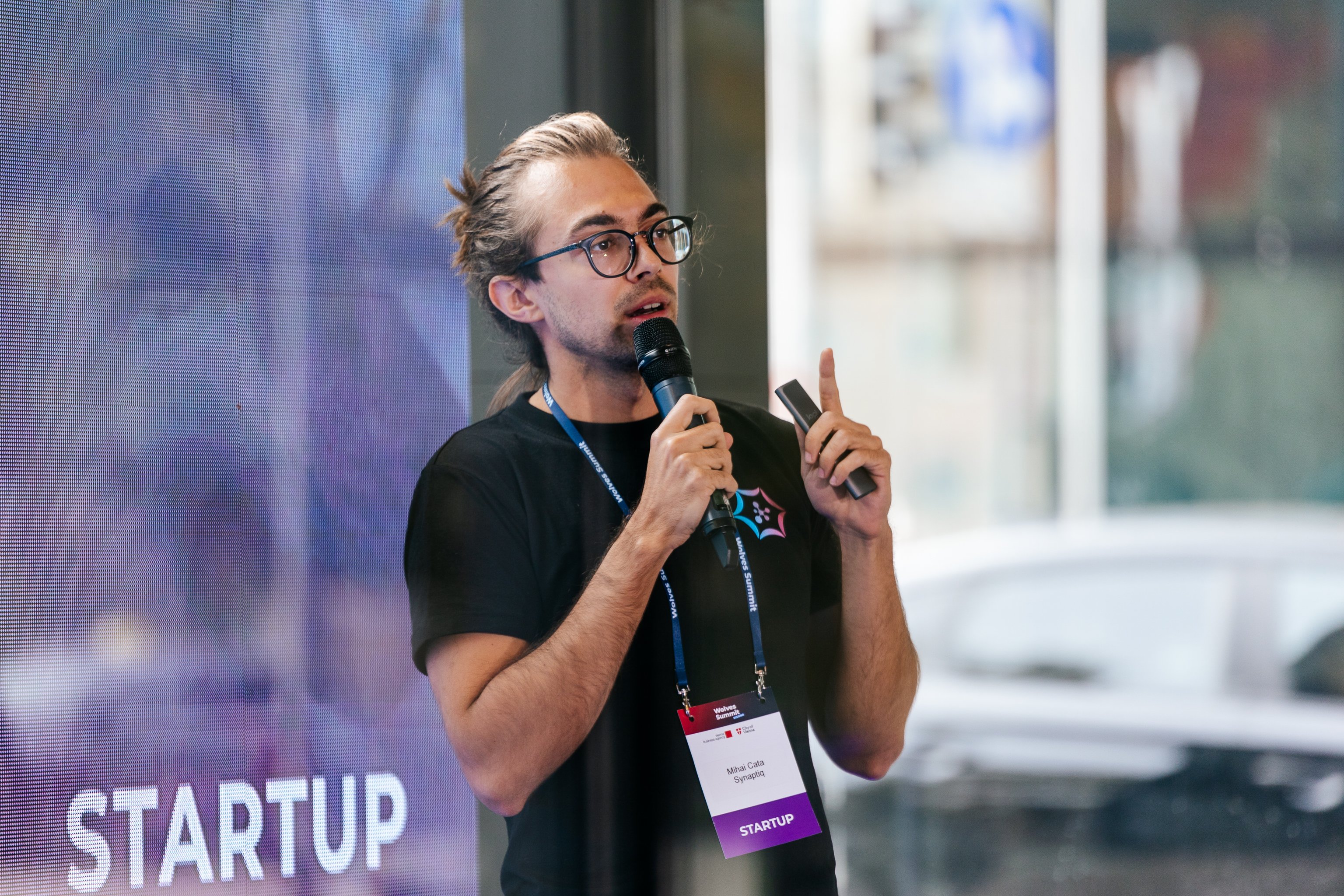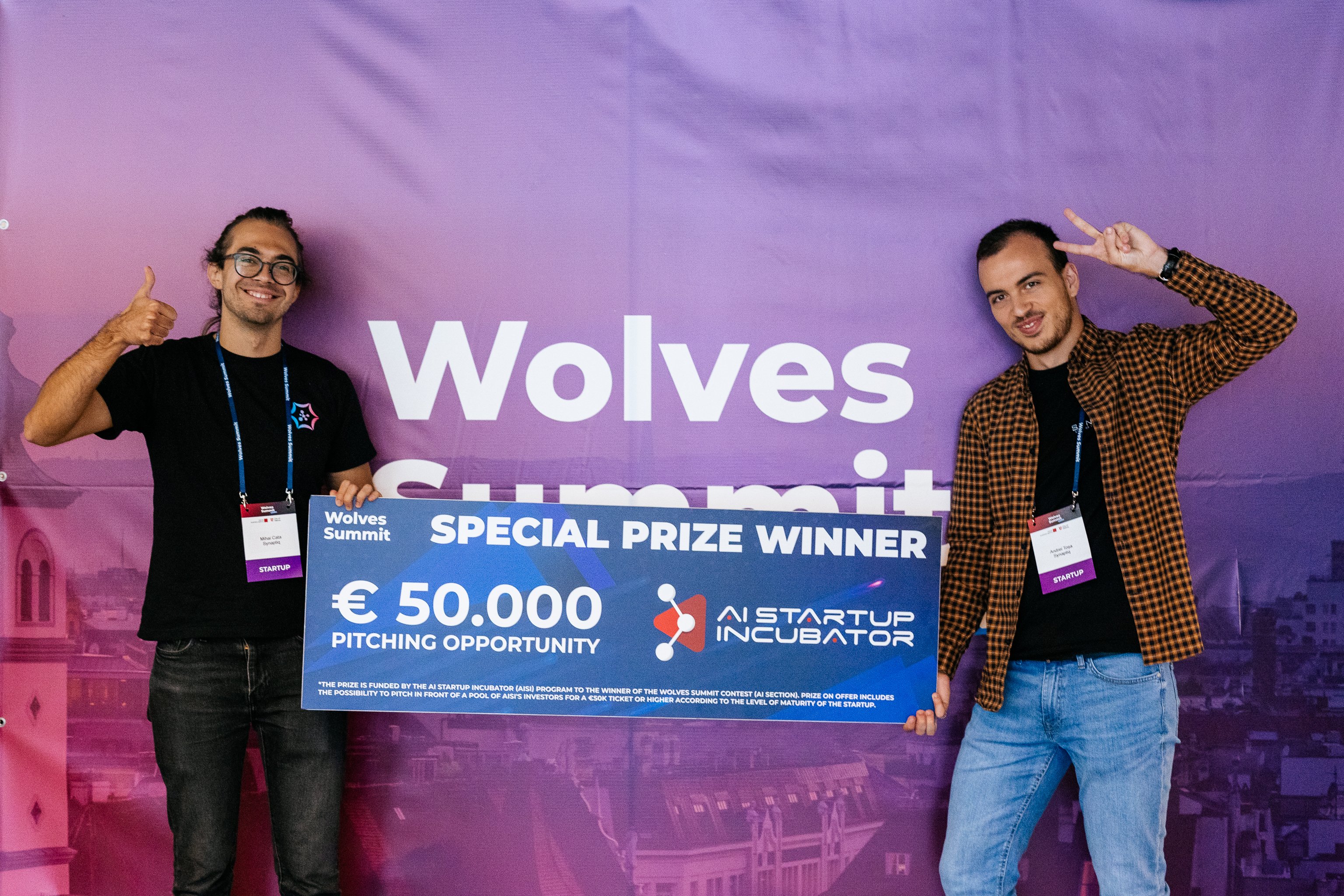 Synaptiq.io is aiming to empower doctors to treat more cancer patients using AI. They offer an automated tumor and organs-at-risk software for radiation oncologists. Mihai Cata, the
Co-Founder & COO, introduced their product - Mediq, that helps doctors identify and delineate cancerous tumors. Moreover, the app enables them to communicate efficiently with their colleagues involved in the process of radiation treatment planning.
Awarded by Demium
Five selected pre-seed participants from the Startup Showcase were given the opportunity to obtain a fast-track to join Demium's late-incubation program. If convincing during the intro with Demium team, the project will obtain full Demium's assistance prior going to their Fund. Demium invests in early-stage startups that look for their first ticket - we come in with a €150k euros initial investment, and a follow-up of up to €500k euros.
MiraiFoods AG
They are developing real meat cultivated directly from animal cells.
Their vision is to become a household brand for cultivated meat, thereby accelerating the transition to a global food system that is environmentally, ethically and economically sustainable.
Their mission is to provide delicious, high quality cultivated meat at a fair price. Better for people, animals and the planet. Learn more on their website.
SpaceCrop
SpaceCrop is an agricultural software company that helps farms manage irrigation, provide weather forecasts, and monitor crops remotely using satellite data and artificial intelligence. They advocate technology accessibility and believe that farming can be easy, efficient, and fun. Their customers are farms that have a lot of needs in managing resources and increasing crop productivity. They want to help the users by reducing their costs in irrigation while increasing their production and income.
Make A Tronic
Make A Tronic is a Romanian startup whose mission is to deliver intelligent manufacturing solutions for small and medium series production in plastics, 3D printing and composites fields.
healthUapp
Their mission is to help desk-bound employees make a healthy habit of regular physical activity in their daily life as well as to deal with discomfort and avoid negative consequences of sedentary lifestyle. healthUapp aims to make both employers and employees satisfied and happy.
Econutri
Econutri recycles CO2 for sustainable protein production. Their high tech innovative bio-process uses carbon dioxide as a source to produce high quality proteins to secure the world's protein demand.
Future Shaper Award winner - Push Marketplace
The Recursive, in collaboration with Wolves Summit, was looking to shortlist and appraise the most promising startups in the region. We launched public nominations for 'The Future Shaper Awards' and we have a winner - Push Marketplace, the biggest fashion community in Bulgaria that lets its users buy, sell and discover new or second hand clothes.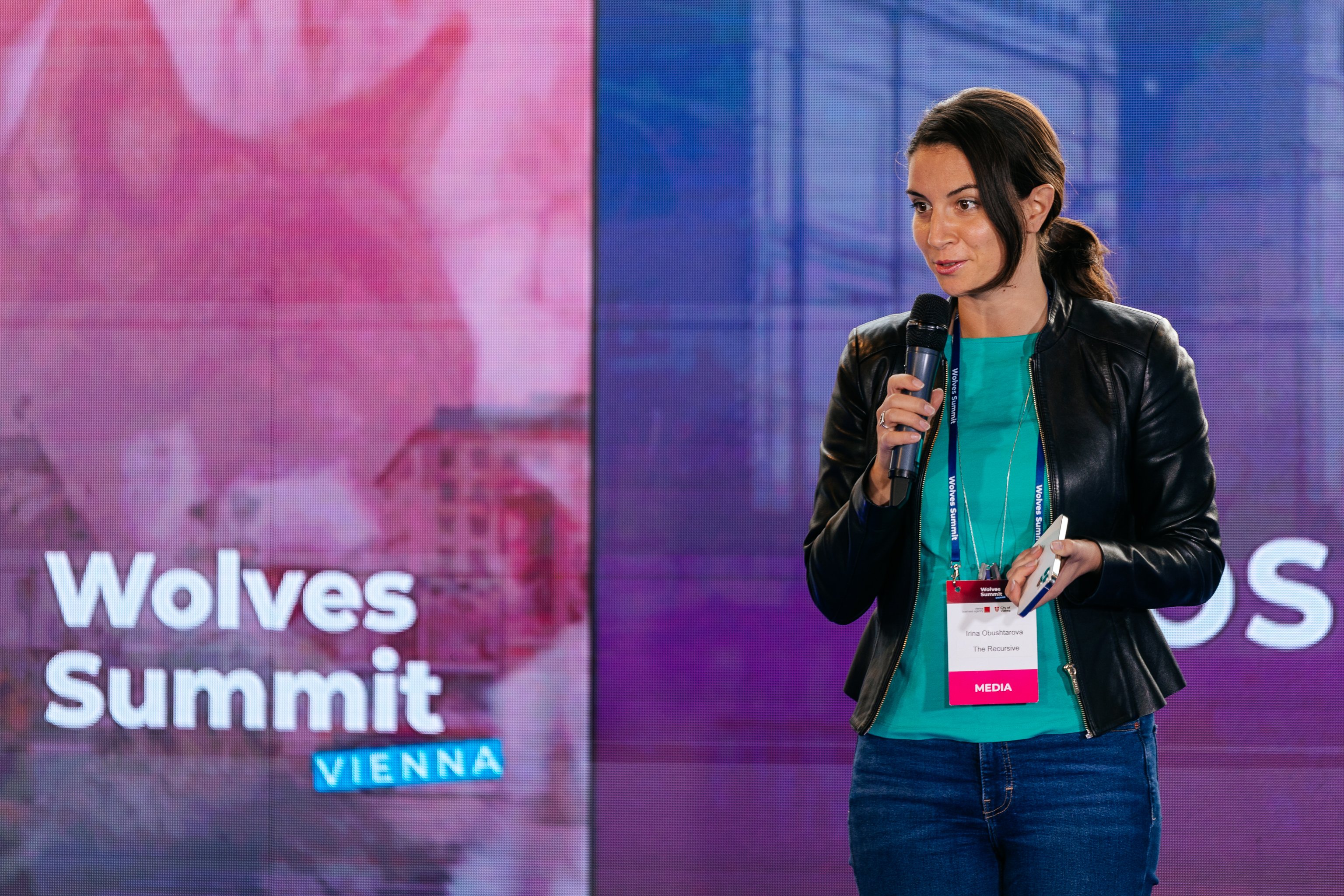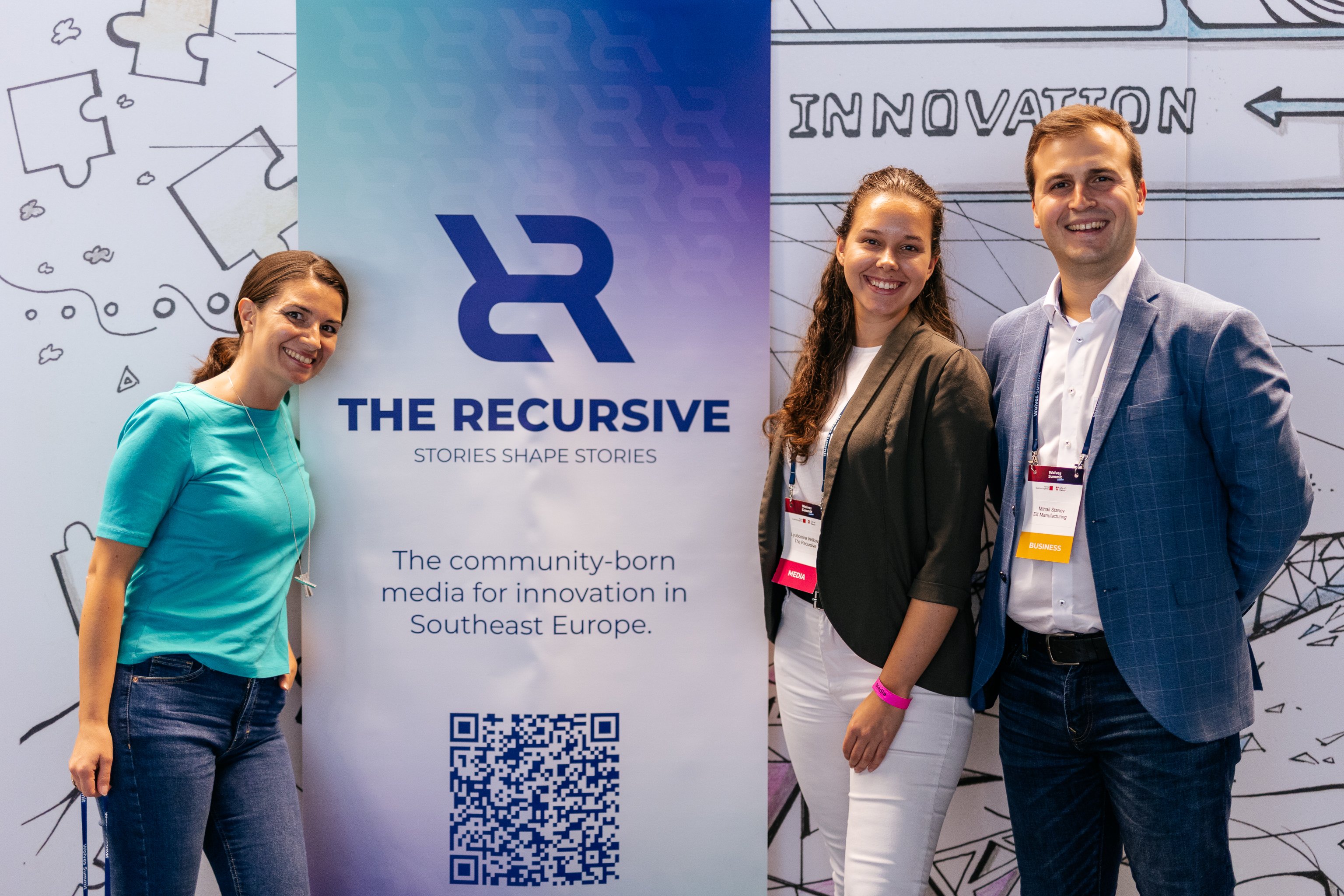 Scouted by our Cooperation Partner, Vienna Business Agency
The Vienna Startup Package invites selected international startups to Vienna that are motivated to expand into the DACH region and immerse themselves in the local startup ecosystem. The intensive, four-week program will help participants understand the Austrian market, identify new business opportunities and connect them with relevant stakeholders in Vienna.
What's included in the package? Travel expenses, Accommodation, Co-working Space, Individual business coaching worth 2.000 euros.
Vienna Business Agency decided to award Svelte! Svelte & Partners aim to: reduce CO2 emissions, avoid depletion of natural resources and on-site production. The company designs, develops and manufactures machines and cutting edge solutions for construction and architecture optimized topological type Freeform.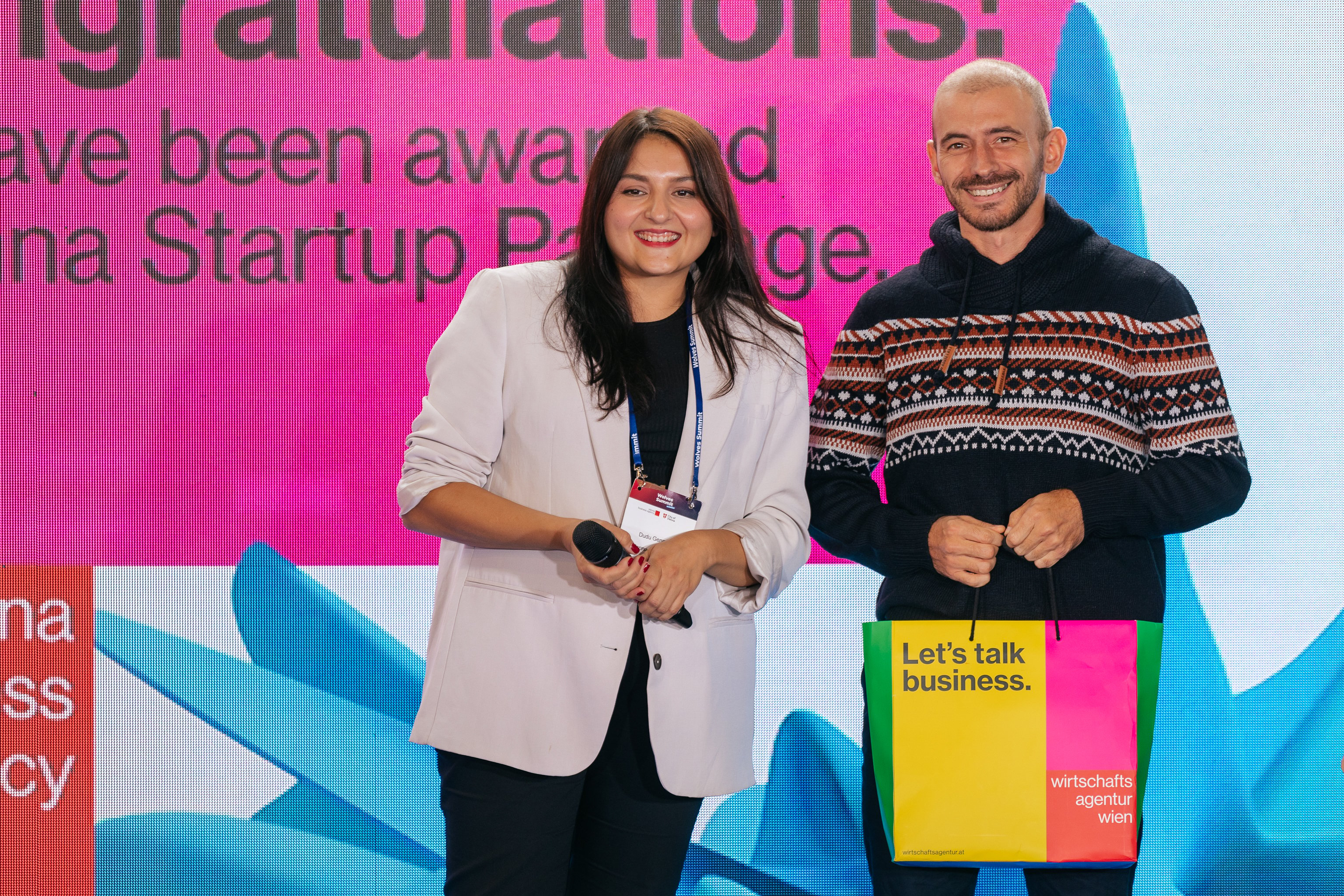 Each edition of Wolves Summit attracts over 1000 Startups. Almost 10,000 Startups attended all our events from 2016 so far. If you want to become a part of the Wolves community, join our newsletter to be up to date with all the upcoming events and opportunities.