Since its very beginning, Wolves Summit has been our answer to a worldwide problem of finding and meeting with the relevant people from the tech community. We focus on quality, time-efficient, valuable networking that supports innovation in technology. This is why we believe that the matchmaking system is undeniably one of the most important qualities of our event. Wanting to ensure that your conference experience will be whole, we have prepared a step-by-step guide that will help you discover Wolves Summit Matchmaking system and fully understand it. Here's everything you need to know about it.
TABLE OF CONTENTS
1. WHAT IS WOLVES SUMMIT MATCHMAKING AND WHY DO I NEED IT?
2. HOW MANY MEETINGS CAN I SCHEDULE?
3. WHO HAS AN ACCESS TO WOLVES SUMMIT MATCHMAKING?
4. WHEN IS IT THE BEST TIME TO START SCHEDULING 1:1 MEETINGS?
5. IS IT WORTH IT TO USE MATCHMAKING SYSTEM?
6. HOW TO USE MATCHMAKING SYSTEM?
2-MINUTE GUIDE TO USE WOLVES MATCH CONFERENCE MATCHMAKING
JOINING WOLVES SUMMIT MATCHMAKING
SETTING AVAILABILITY
ABOUT YOU, NOTIFICATIONS SETTINGS
LOOKING FOR RELEVANT PARTICIPANTS TO MEET WITH
SENDING A REQUEST FOR THE 1:1 MEETING
SCHEDULING 1:1 MEETINGS - ACCEPTING, REJECTING, RESCHEDULING, CHECKING
1. WHAT IS WOLVES SUMMIT MATCHMAKING AND WHY DO I NEED IT?
The key focus of Wolves Summit is to support innovation in technology by improving the way one meets with people relevant to their business needs. We have introduced a format of 15-minute virtual 1:1 meetings between the participants of our conference as, basing on our experience, 15 minutes is a time long enough to decide whether you have common business interests and are willing to move the conversation forward. Wolves Sumimt matchmaking is a system that helps you schedule virtual 1:1 meetings with relevant people before and during the conference and make sure your time will be used to its maximum.
I can certainly say that the matchmaking facility for Wolves Summit is one of the best I've experienced in Europe. For me, the highest value out of the conference is the quality of the matchmaking tool. The fact that I am able to do such good meetings at Wolves Summit is the thing that I really enjoy the most.

Chris Haley
2. HOW MANY MEETINGS CAN I SCHEDULE?
Each meeting lasts for 15 minutes. If you're coming to Wolves Summit just to meet with relevant people 1:1, you can schedule 60+ such meetings. The busiest participant of Wolves Summit had 45 meetings in 2 days, however we will not set any limit on you, you can schedule as many meetings as you want to.


3. WHO HAS AN ACCESS TO WOLVES SUMMIT MATCHMAKING?
Attendee Silver, Gold and Platinum Ticket

Investor Silver, Gold, Platinum and Diamond Ticket

Startup Silver, Gold and Platinum Ticket

Free Startups (only one Team Member)

4. WHEN IS IT THE BEST TIME TO START SCHEDULING 1:1 MEETINGS?
Approx. two weeks before the conference we send out the access to matchmaking system to each participant with the appropriate ticket (as long as you got your ticket before that date). We recommend you to start scheduling the meetings right away when everyone still has free slots left. Later on, it will be getting more and more difficult to schedule meetings with everyone you want to meet.
5. IS IT WORTH IT TO USE MATCHMAKING SYSTEM?
Whenever you are going to some event or you are starting to look for new opportunities, it is always great to have some kind of help. I think this is the perfect place where matchmaking is coming in. It is something that allows you to browse through whatever catalog or group of lists and guides you through the process of locating who will be the interesting person or who is the interesting company that you can do business with. And this is a really important aspect, because sometimes if you are checking out a big number of people or companies, you are simply getting lost. So having a one place or some kind of a tool that allows you to reach your potential business leads or potential partners with ease, is really important. That's why I think the matchmaking is addressing this problem and it is definitely helping out to bring your business to the next place.

Chris Kobylecki
6. HOW TO USE MATCHMAKING SYSTEM?
2-MINUTE GUIDE TO USE WOLVES MATCH CONFERENCE MATCHMAKING
HOW TO SWITCH BETWEEN WOLVES MATCH AND HOPIN.TO EASILY
See below the additional way you can navigate between Wolves Match - conference matchmaking app and Hopin.to - where the panels sessions and presentations will be live streamed (that considers only virtual attendees - in person participants will be able to join the panel sessions and keynote in the Palace of Culture and Science in Warsaw).
JOINING WOLVES SUMMIT MATCHMAKING
Approx. 2 weeks before the conference (as long as you got your ticket before that date) you will get access to Wolves Summit Matchmaking system via email. Once you click it, you will see the man login screen. By default, your account will be connected to the e-mail address the message with access was sent to.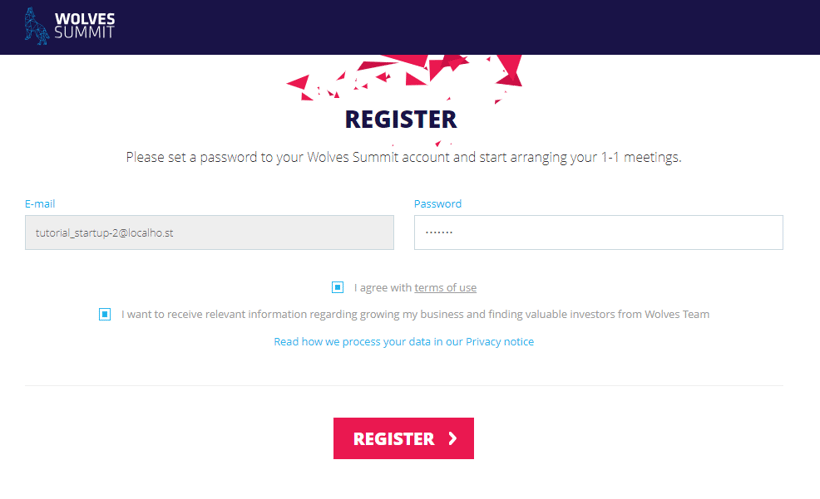 When logging in for the first time, you will be asked to write your password. This password is set by you. Once you log in, you'll also be able to change it in the Account Settings.

Once you log in, you will see a message asking you to set your availability. This step is crucial; we recommend you to do it right away, esspecially if you know that some time slots will be a no-go for you (pitching, keynote, discussion panel etc.).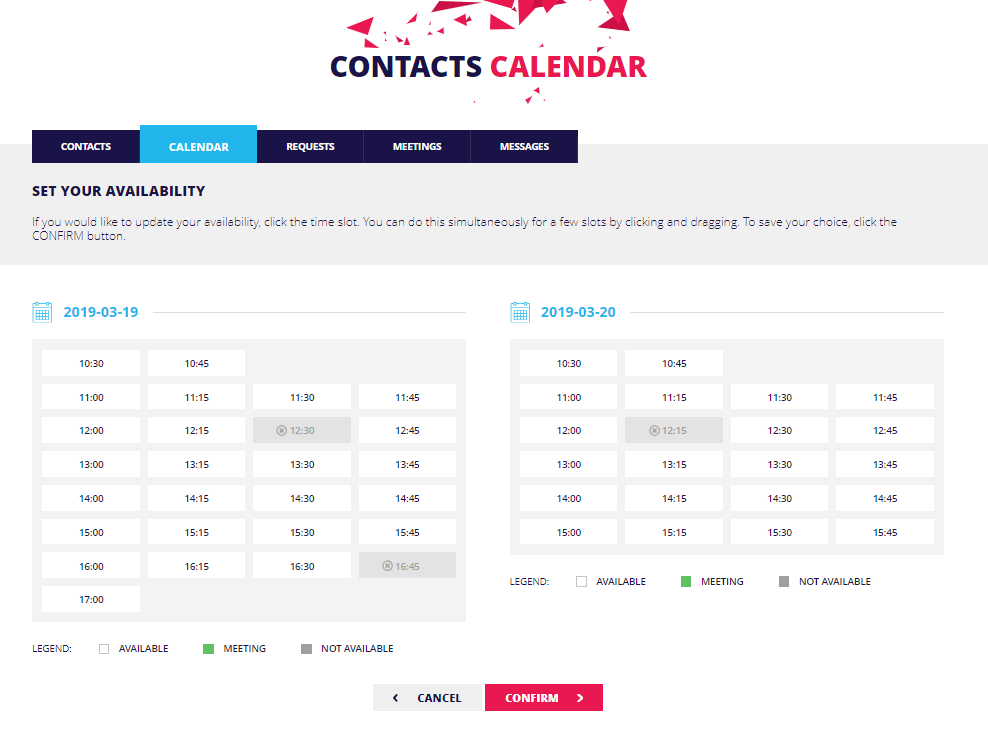 If you are not available to meet 1:1 during the whole conference, click the time slots during which other participants won't be able to reach you. Click confirm to save your choice.

To start connecting with other attendees, you need to complete your profile first. If your profile lacks data crucial to the matchmaking, you will see a yellowish message at the top of the page, asking you to complete your profile. You can do so by clicking "profile" in the message or "account settings" that you'll see on the list that will unfold after you click the top right icon.
Account Settings will differ basing on which group you represent. The example below shows Startup Account.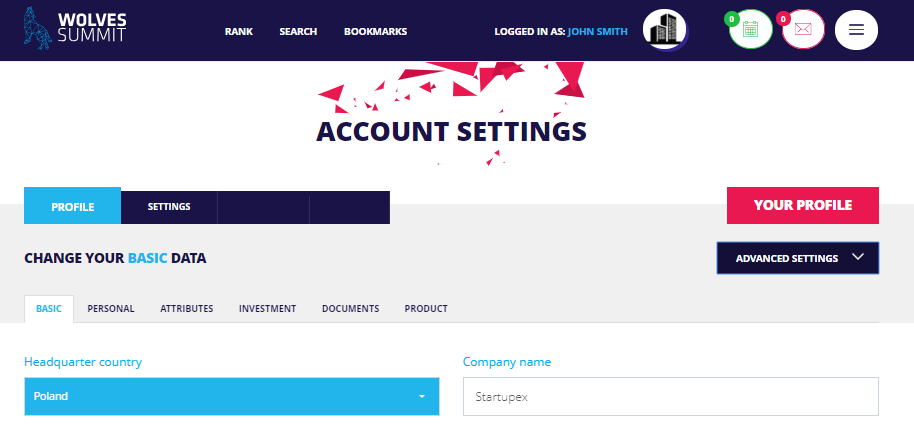 In Account Settings of any type of account (Startup, Investor, Corporate and Executive), in addition to your profile (information about your company), you can also change settings (e-mail, password).
We recommend you to fill your profile as thoroughly as possible. It is one of the key things other participants will look at while choosing who to meet up with. This way your request-to-meeting conversion will be higher, as wanting to make the most out of the experience, other participants might not accept those, whose information is not precise.
When filling your profile, you can attach your phone number. It is not obligatory; however, it might come in handy as we will be sending messages to attendees 5 minutes before their scheduled meetings.
NEW FEATURE - EMAIL NOTIFICATIONS
You can enable various types of notifications that will remind you about the upcoming meeting once you schedule one. In order to enable email notifications go to Account Settings, Settings section and there you are able to define the types of notifications you'd like to receive. Please note that neither your phone number nor email address you put into Wolves Match account is visible to other users.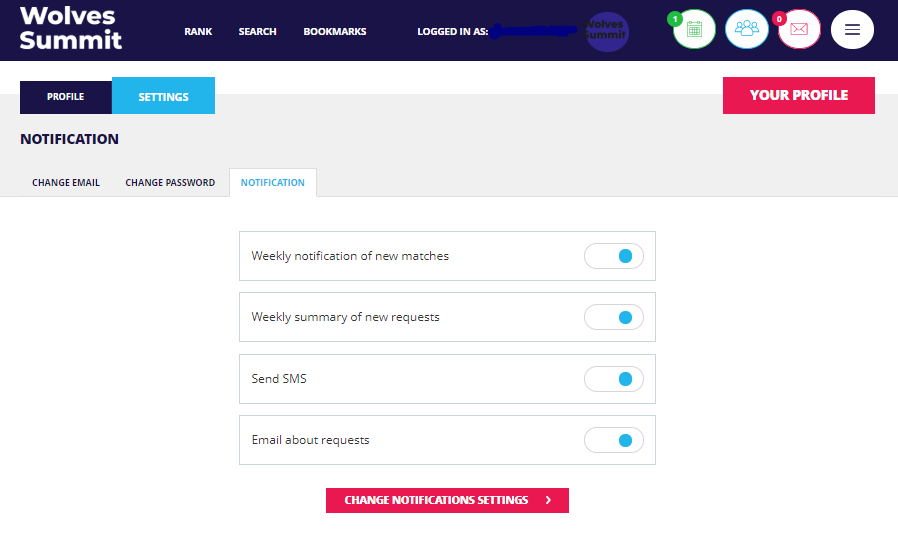 LOOKING FOR RELEVANT PARTICIPANTS TO MEET WITH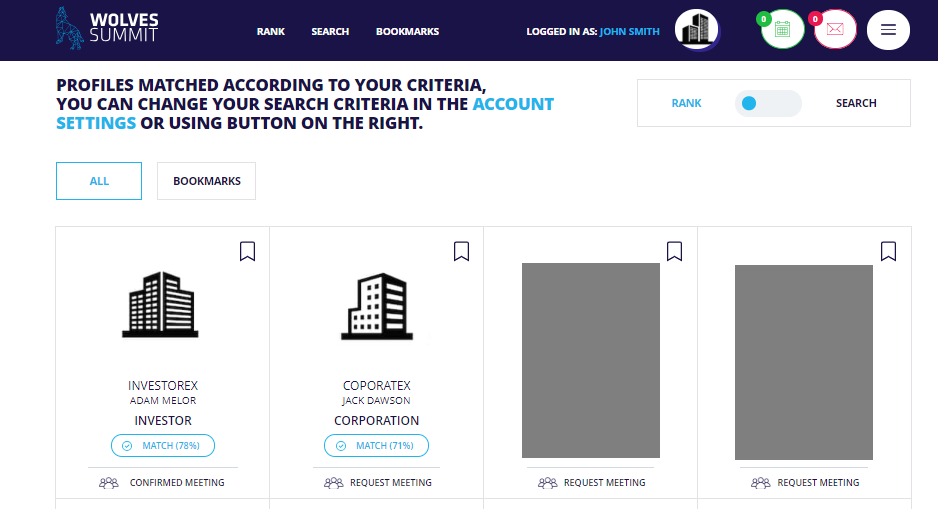 Once you confirmed your availability and added information about you, you can start sending requests for meetings. On the main, page you'll find profiles suggested for you basing on the preferences you have given. By default, the main page will be set to "rank" view, which means that the profiles at the top are the most that fit your preferences the most. The %Match is counted by the tool's algorithm, basing on your preferences and characteristics.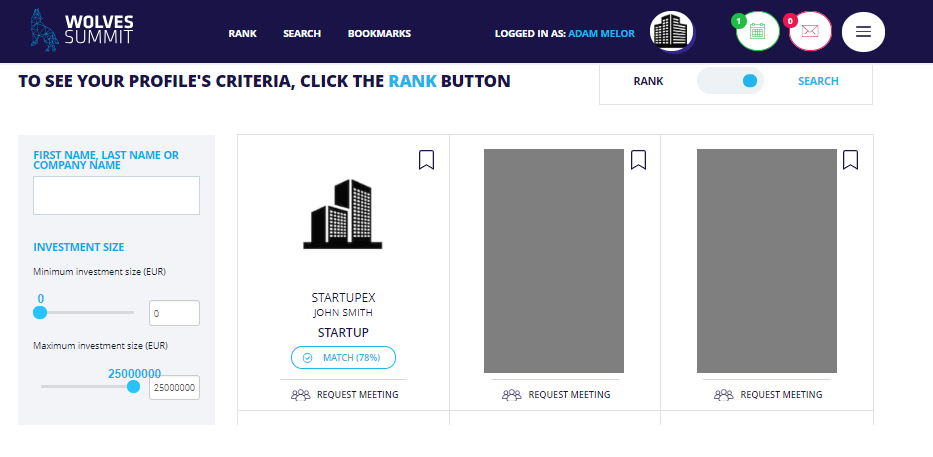 If you want to search for a specific (type of) participants, you can do so by switching the bar to "search" or by clicking "search" in the panel at the top of the page. Use the panel on the left to narrow down your search or find specific companies.
SENDING A REQUEST FOR THE 1:1 MEETING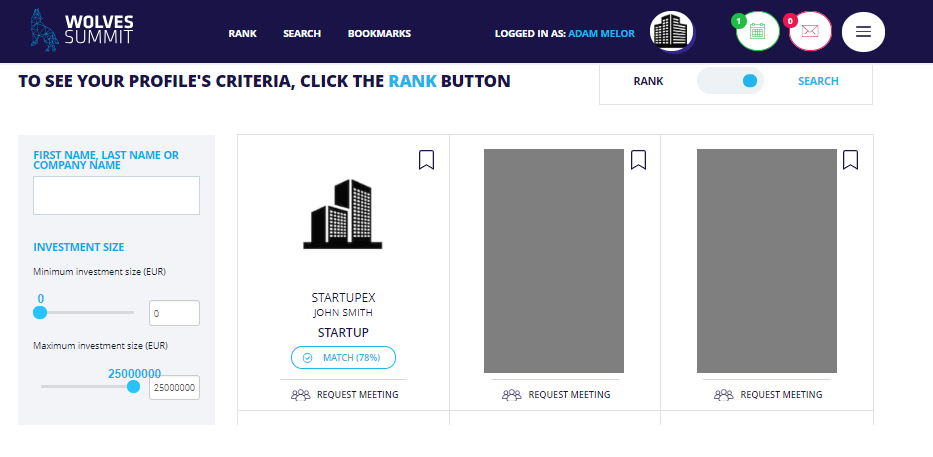 Once you find someone you want to meet with, you can send them a request to meet by clicking "Request Meeting". You will then have a chance to write a personalized note to them.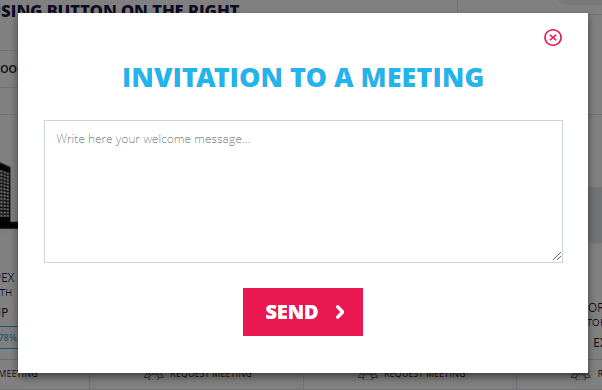 Keep in mind that the note is often the first thing our participants take into consideration when deciding on who to schedule a meeting with. We recommend you to write it pitch style, short, specific and concrete.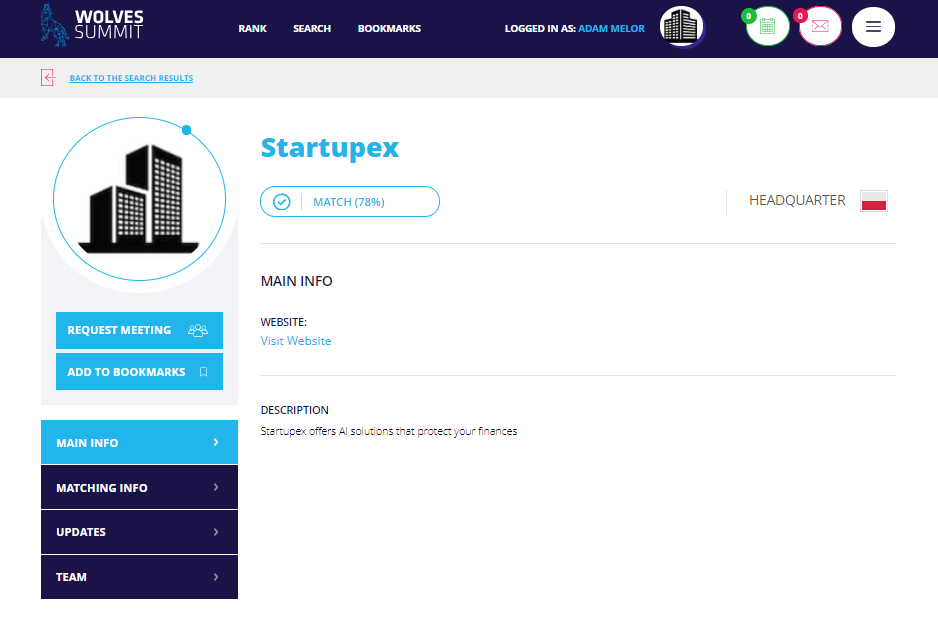 If you wish to learn more about the company you found, click on their profile. You will then see specific information about them. You can also add them to bookmarks to stay updated with their development or to go back to them in the future.

Once someone sends you a request, you will see a notificaion appear on the calendar icon in the panel on the top of the page. You can accept or reject the meeting right away, learn more about the company that has sent you the request or see all requests that have been sent to you.
If you decide to accept a request that has been sent to you, you will be able to choose the time that fits you best (the tool will show only those slots in which both of you are available).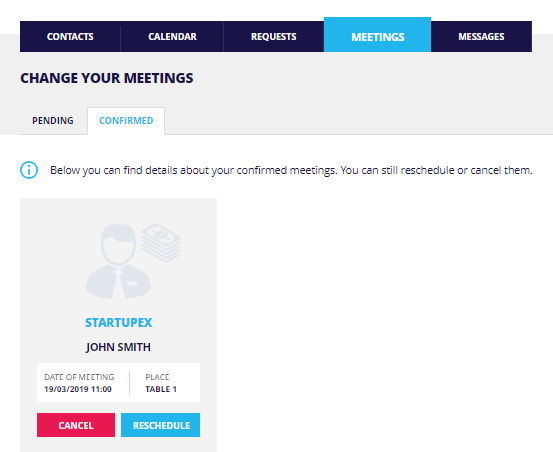 The confirmed meetings appear in the "confirmed" section. If you wish to cancel your decision or reschedule the meeting you can do so by clicking a proper button. In this section you will also see when and where the meeting will take place.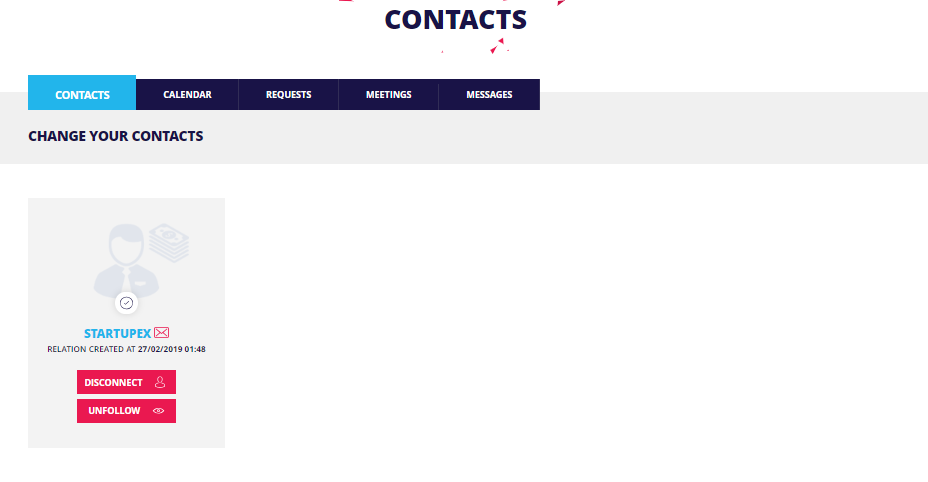 Once you accept a meeting, the person and/or company will appear in your contacts. You can unfollow them or disconnect at any time.
I believe matchmaking is really crucial. I would recommend the Wolves Summit matchmaking tool to basically anyone.

Pavel Jiranek
NEW FEATURE - MEETING REQUESTS EASIER TO FIND AND SEARCH
You can now filter their meeting requests in order to search easier. Also, the meeting request.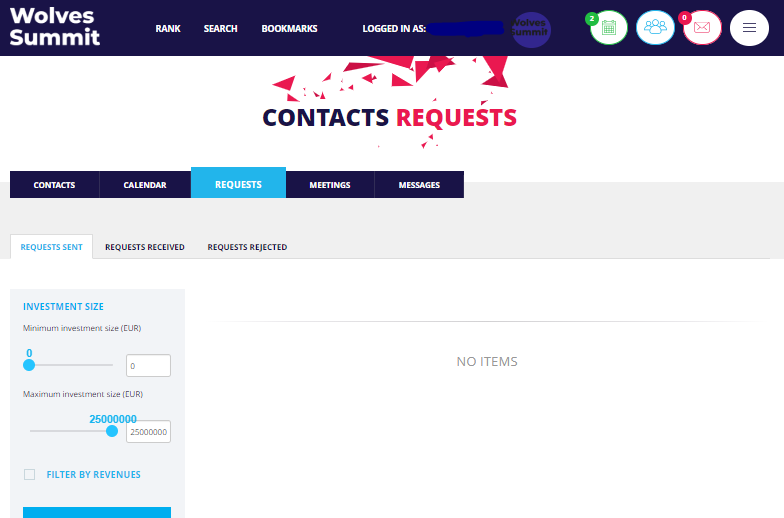 Remember: Only the conference Matchmaking platform gives you an opportunity to schedule 1:1 meetings at Wolves Summit. If you own a Wolves Match account as well, make sure you are logged in to the proper account by checking the logo at the top of the page. If it's the Wolves Summit logo you are using the proper platform and you are good to go, if it's Wolves Match logo, click the pink arrow next to it and choose Wolves Summit logo.

If you are joining Wolves Summit and you are reading this less than 2 weeks before the conference, we strongly suggest you to access your matchmaking profile and start scheduling 1:1 meetings if you haven't done it already. The matchmaking formula is the reason why many of our participants join and come back to Wolves Summit every edition, so the longer you wait, the more difficult it might be to schedule the meetings with people you are the most interested in.
Happy Matchmaking!