Wolves Summit 14th (October 19-21, 2021) attracted 2087 attendees from 60 countries
The winner of the Great Pitch Contest is PleasyPay - an Intimate Wellness App offering games-based relationship management solutions.
The format is set to change next edition as the organiser is looking to pilot a 5-day tech week programme of regional events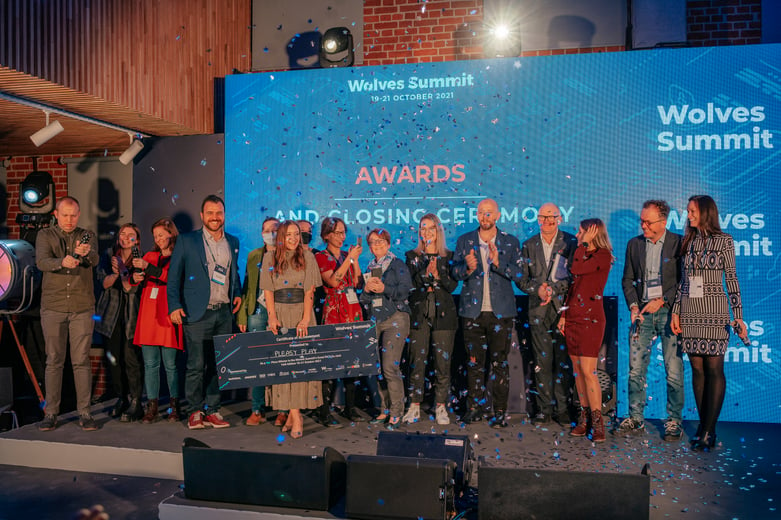 Wrocław, Poland - Yesterday, Wolves Summit successfully completed another hybrid conference seeing 2087 attendees from 60 countries. 12,000+ chat messages were exchanged and 2175 1:1 meetings took place during Wolves Summit 14.
85% of Great Pitch Contest Startup Finalists are still active and went on to raise funding.
Once again, Wolves Summit has selected more than 1,000 startups to attend the event and take part in pitching competitions, workshops, and masterclasses. This year's startup group represents 60 countries, showing a shift away from the Silicon Valley-centred view of tech. Top participating countries this year include Poland, Germany, US, UK and Romania. India and Singapore are among the top 10 countries joining the 14th edition.
The judges narrowed the list down to nine finalists: Alphamoon (Poland), CancerCenter (Poland), Kinderpedia (Romania), Panda Training (Finland) Swapp! (UK), TakeTask (Poland), Emailtree AI (Luxembourg), RISE (Germany), Morari Medical (US), Pleasy Play (Portugal). On October 21st the shortlisted startup pitched in the Finals in front of multiple groups of VCs and tech leaders services as judges. Wolves Summit has a winner - Pleasy Play, an Intimate Wellness App offering games-based relationship management solutions. The two other runner-ups are Kinderpedia and Emailtree.AI.
Pleasy Play was one of the shortlisted companies by Sx Tech Eu, a Wolves Summit 14 partner and the only hybrid conference connecting entrepreneurs, educators, companies, and people interested in the sex industry. The collaboration between Sx Tech Eu and Wolves Summit marks the first time the sexual technology industry participated in a conference of this scale. With the global sexual wellness market set to hit $39bn by 2024, the industry needs to receive much more visibility and recognition.
UiPath Automation Awards CEE & Turkey 2021 winners
Yesterday, the third edition of the competition designated its two winners, one for the 'start-up' category and the other for the 'scale-up' category, and we are happy to congratulate them:
Start-up Category: Serket (Netherlands/Hungary) is a software company. Their recognition software helps farmers to monitor and trace their pigs individually and automatically with any cameras. Scale-up Category: Powerful Medical (Slovakia) is a deep-tech company, tackling the most challenging problems of modern medicine using artificial intelligence and machine learning.

Senior international leaders gather at Wolves Summit
This edition brought more diverse session formats and dedicated stages for hosting external events and workshops as part of the wider Wolves Summit agenda. A reflection of the growing interest in the Central Eastern Europe startup ecosystem, Wolves Summit this year has drawn in investors, business leaders, ambassadors, and commissioners from across Europe and beyond. The event is geographically diverse, with 60 countries represented.
"Exceptional times need exceptional people and exceptional actions! We were absolutely thrilled to partner with Wolves Summit this year. Over the last couple of years, they have shown so much resilience and ingenuity striving to connect the ecosystems in Central Eastern Europe and beyond. At European Investment Fund, our aim is to support innovators on their journey towards success. We are looking forward to be part of the upcoming CEE Tech Week in June 2022 making an even bigger impact" - Nitan Pathak, Head of Unit at EIF.
100+ speakers took the audience on deeper dives across 20 topical and timed subjects including representatives from Bolt, Wayra X, Microsoft, Seedcamp, APX, Dealroom, and Romania's first unicorn UiPath. Panel speakers from government funds including Austria, Slovenia, Czech Republic, Poland, Ukraine, and Singapore.
Future Outlook
Wolves Summit is going to look a whole lot different in 2022. Wolves Summit CEO Michael Chaffe has plans to grow the summit internationally. The first stop is Moscow on March 1st, 2022.
The team is also preparing to pilot a new 5-day hybrid programme celebrating innovators through local, national, and global events & activities run by local event partners across Central Eastern Europe.
Wolves Summit is in advanced conversations with a number of leading regional conferences to join and co-create the programme for October's edition. They are on the lookout for other innovative organisations that may be interested in co-hosting events and reaching beyond their immediate network. For more partnership enquiries please contact tomasz@wolvessummit.com. Or you can register your interest to co-create the CEE Tech Week by filling out the form at https://www.wolvessummit.com/cee-innovation-track