London & Warsaw, 19th August 2021 - Wolves Summit, the largest startup technology conference in the CEE (Central and Eastern European) region today announced its most expansive investor lineup, also sharing news of the speakers and partners that will make this 14th edition of the Summit the most impactful yet.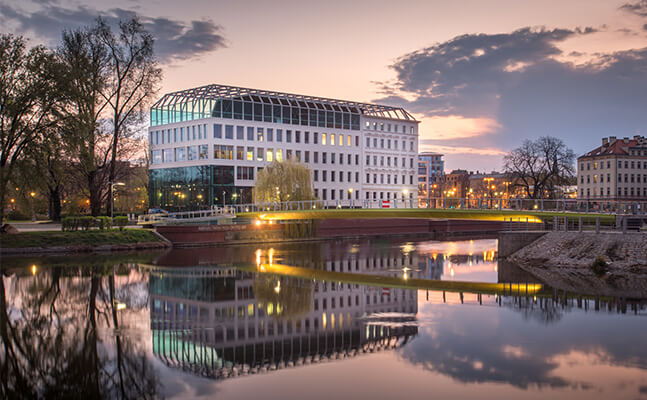 Returning for its 6th year, Wolves Summit will bring together prominent industry influencers executives, influential media, and more than 1000 startups to explore the latest technology trends and innovations from Poland and surrounding European countries. This year's event includes over 15 topics including: IPO & Private Equity, Corporate Venturing, AI for Earth, Circular Economy, Technology Transfer, Embedded Finance, Manufacturing, 5G & IoT, Emerging industries, Healthcare & Sexual Wellness.
Focusing on the theme "Connections That Matter", the summit which takes place 19-21st October is set to become Wolves Summit largest event to date, attracting over 5,000 participants in-person and online. The in-person event will take place for the first time in Wroclaw, Poland's hub of AI-innovation, hosted at Concordia Design. A fully immersive online event will run parallel to the in-person Summit, offering guests the same opportunities to connect, learn and engage 1:1 with the most influential voices, investors and partners in the CEE startup ecosystem.
Michael Chaffe, CEO of Wolves Summit commented:
"We are here to build a truly flourishing startup ecosystem on both an EU and international level, being an innovation bridge between the Central and Eastern European region and the tech powerhouses of the world. With this year's edition embracing a fully hybrid model, more founders, investors and innovators will be able to access the unparalleled match-making opportunities and industry-leading speakers we have lined up. As previous attendees will attest to, Wolves Summit has been instrumental in facilitating the success of some of the region's most successful startups and now draws the cream of the VC community, keen to invest in this next generation of tech titans."
An expected 200 speakers, investors and partners from across Europe are set to showcase the latest in tech innovation, offering inspiration, insight and opportunities to connect, including:
Michał Dubisz,

Country Manager, Bolt
Stanislav Ivanov, Tera VC
Donatella Calligaris - Flashpoint VC
Francesco Cracolici - Nomadic Minds
Nora Wagner-Varady - CEU Innovation Lab
Thomas Koesters - Startup Heat Map by Deep Ecosystems
Roderick Beer - UK Business Angel Association
Ana Wolsztajn - Kaya VC
Yoram Wijngaarde - Founder, Dealroom
Franka Godina - Techstars Israel
Zoltan Vardy - The Launch Code
Peter Cowley -

DeepTech Labs, Board Observer, UK
Glen Waters - PwC Raise | Ventures
Ola Miedzynska, CEO, Sx.Tech
Vargha Moayed, Chief Strategy Officer, UiPath
Boris Krumrey, Global VP Automation Innovations, UiPath
Ondrej Bartos, General Partner, Credo Ventures
Ursula Morgenstern, President Global Growth Markets, Cognizant
Reshma Sohoni, Founding Partner Seedcamp
Thought-leaders from influential international brands including Techstars, Raiffeisen Bank's Elevator Ventures, PwC Raise | Ventures, Microsoft, Ringier Axel Springer, NextTechNow by Publicis Groupe, UiPath, among others will be announced in the upcoming weeks.
Make your mark with priceless pitch competitions & match-making opportunities
This year's event will provide a new CEE Innovation Track, two startup pitching competitions, as well as matchmaking and investor events for startups, investors and executives.
Announced investors include:
Oscar Ramos - SOSV
Marcus Erken - Sunfish Partners
Tessa van der Geer - Peak Capital
Katarzyna Dąbrowska - InVentures
Christina Aparicio - Cemex Ventures
Bobbi Bidochka - TandemLaunch
Zach Coelius - Coelius Capital
Maxime Paradis - G. Ventures
Owen Reynolds - Expon Capital
Angelo Burgarello - AI Startup Incubator
Innovation Track taps into innovation hotspots
This year Wolves Summit has also partnered with MIT Enterprise Forum, Sx.tech, Made in Wroclaw, InnovX, PODIM and StartupWiseGuys to offer attendees an intriguing slate of co-located events throughout the day and in addition to conference programming.
Visit Wolves Summit page to see all CEE Innovation Track event partners and sponsors.
For more information about exhibiting and showcasing your products and technology, please contact us at info@wolvessummit.com. Attendees and media are able to register for Wolves Summit here.
----
Notes For Editors
For more information about this press release, contact:
Amy Sutton
PR Consultant
Frame PR
T - +44 (0)7983416890