We have prepared a unique new online tool for you that will make your brand stand out from the competition during the conference - a virtual booth. No matter where you or your visitors are, it's your chance to reach out to the audience of potential clients and business partners anywhere in the world. Learn more about how this solution can drive your lead generation process and what the best practices are of using the virtual booth - read our tips & tricks below!

The Great Pitch Contest consists of many various networking activities happening online in parallel. One of them is our Virtual Expo available for all participants of our live streaming platform Hopin.com. Virtual Booths are dedicated both to startups, investors, corporates - all partners that would like to have their presence emphasized this way during the online conference. Booths are available to all the attendees for a visit throughout the duration of our event - the upcoming one will be held on 19-21 October 2021. Similarly to an offline conference, the stand attracts delegates and gets them more acquainted with what you are doing.
Let's take a look at 4 ways you can use a booth to take your business to the next level and engage with the entire Wolves Summit community!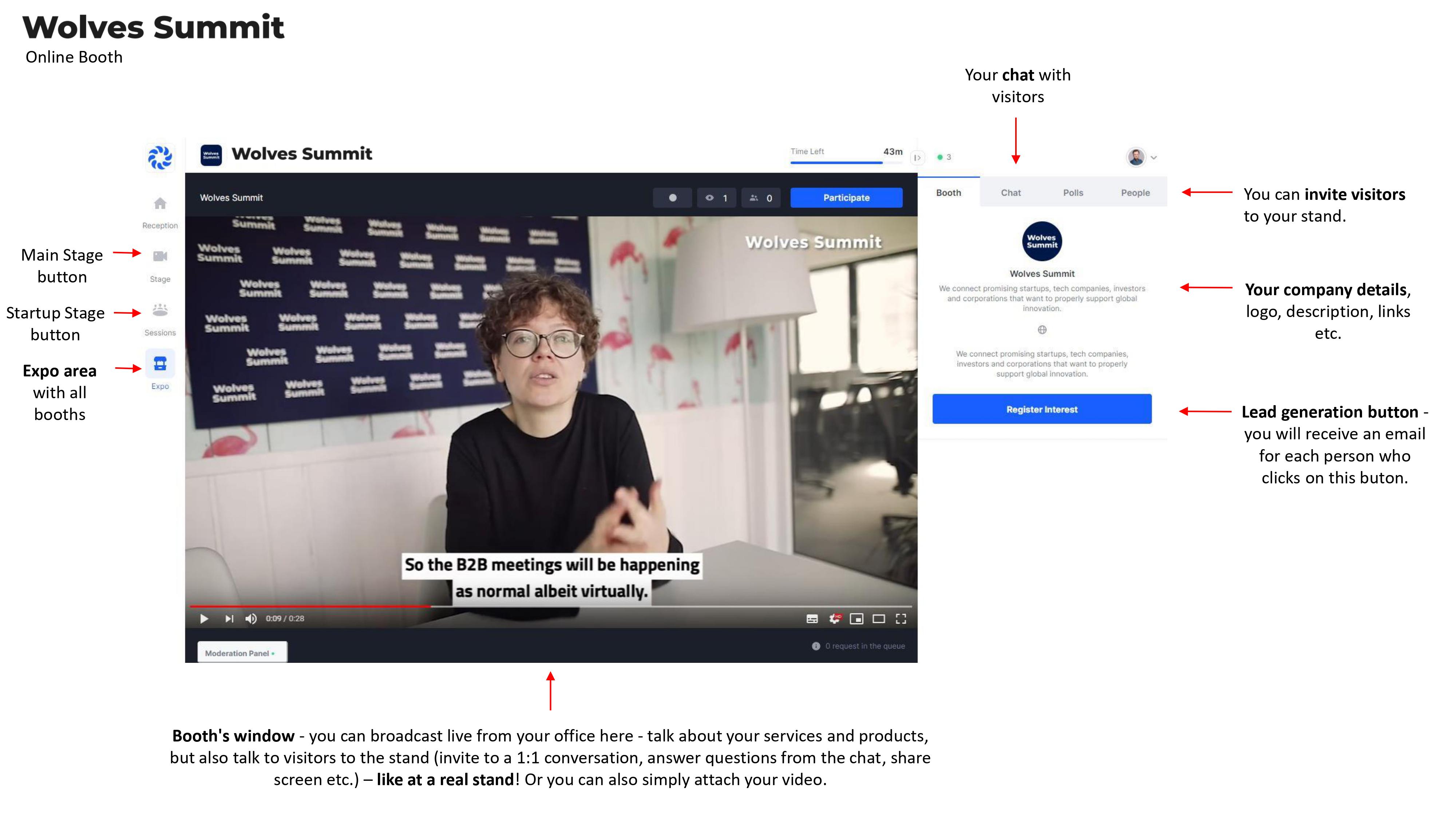 1. Position your brand by embedding a pre-recorded video
This is the easiest way to host your virtual booth and does not require much input from your side. It allows your brand to stand out from the competition. We can embed any video of yours uploaded on common providers like YouTube, Vimeo or Wistia. Wolves Summit online attendees will be able to see it every time they enter your virtual booth.
You can use your standard company promo video or prepare a dedicated movie for our event - it's up to you. We recommend you to choose the latter option as in our experience, people prefer content more when it's dedicated to them.
2. Mix your playlist and answer questions live
If you want to change material during the conference, it will require a little bit more engagement from your side. Schedule the videos yourself by creating a video playlist in advance and stream it directly from your computer by way of screen sharing.
The benefit here is that your content will be more diverse and engaging at the same time. In this case, you'd also be able to pause the video stream at your booth and connect with your visitors personally through the camera, to answer questions in person.
Both scenarios with embedded videos or a mixed playlist in the booth enable communication via your group text chat with conference participants.
3. Present live at your booth and generate leads
The most engaging option, performing a live presentation straight from your online booth to provide the maximum level of interaction with your visitors. You'll be able to interact directly with the Wolves Summit audience of startups, investors and executives.
By sharing your screen you can present your latest offer or solution, answer live questions both via text or verbally, and engage your visitors by sharing a dedicated special offer. You'll have access to the entire Wolves Summit audience and be able to invite them directly to your booth to interact in person fully online.
4. Creativity is the limit!
You can play music, share your screen, set up your mini film studio or read from the stars…;) Whatever you feel will be engaging for your potential customers or investors. The booth aims to deliver potential business partners directly to you.
Get your Virtual Booth during Wolves Summit!
Virtual Booth covers:
your place in the Expo Zone at Wolves Summit,
live broadcasts from your office/home office,
video chat with stand visitors (face to face, like at a real stand!),
lead generation tool - you will receive data of visitors who show interest,
ability to present your services (by sharing your screen),
your group text chat with conference participants,
access to all visitors at Wolves Summit - you will be able to invite them to your stand.
Learn more about the upcoming conference and how to get the Virtual Booth by visiting our website.