Pynk is the Multi-Award-Winning London Fintech that helps you learn and earn through Social Investing. It's also a start-up that's seen big success, and early. That's thanks in part to some great meetings at Wolves Summit, and to their killer pitch – which took out the Great Pitch Contest at 10th Wolves Summit back in October 2019.

In the Pynk: 8 Tips to Be a Wolves Summit Success Story
We sat down with the team at Pynk to pick their brains about what helped them see early success. Then we wrote it down so you can use it. You're welcome. You see, at Wolves, we're all about supporting innovation. To get a piece of the Wolves Summit pie, make sure you sign up soon, so you can meet (or be) the next Pynk!
1. Know the Problem You're Solving
We asked the team at Pynk, what was the market gap they saw that they decided to fill? Their answer? It wasn't about a 'gap' – it was an opportunity to solve a real problem they could see.
'Rather than identifying what the gap is that we fill in the market, we prefer to talk about the problem that we are aiming to solve for Millenial and GenX investors worldwide. That problem is a lack of financial education.

Due to the Fintech revolution, increasingly people are recognising the importance of taking control of their financial future. However, they lack the knowledge to do so. In fact, 76% of Millenials are financially illiterate. Financial education is an essential tenet of everything we do here at Pynk and by working together with our Pynkster community around the world, we can reduce risk and improve their returns over time.'
If there's a clear problem, there's a need for your technology or service, and a place in the market for you. But start at the problem, not with the technology – it's the classic Jobs-to-be-Done framework of Clayton Christensen and Anthony Ulwick.
2. Drive and Honesty Make the Team
One thing is getting the bright idea of the problem to solve, and perfecting the shiny solution to it. The next is getting it in front of investors, getting it ready for market, for the rapid scale-up, through a thousand iterations. And that requires a solid, high-performance team. What team values do you focus on when you recruit team members at Pynk? How do you ensure everyone's contributing and collaborating effectively?
'We spend a lot of time optimising our team and foster a cultural environment of open and honest feedback. We recognise as a team when someone might be underperforming and celebrate when they're over performing. If underperforming, we discuss why and address those reasons head-on but most importantly, we agree on the solution and nothing is taken personally as we're professionals.

The other quality we look for in team member is passion, drive and commitment. We have a unique and diverse range of skills within Pynk and we learn from each other, but if the drive isn't there in the first place it's not going to work.'
3. Hurdles are for Jumping
Pynk makes this whole Fintech thing look fun and fundraising look easy. We know it takes a lot of work to see the success you have. What have been the speedbumps along the way and how have you addressed them?
'Our biggest challenge and hurdle to date has been related to regulations. We fully support regulation in the UK and around the world because it's there to protect consumers but foster innovation. That's why we work as closely with regulators as possible.'
Working collaboratively with stakeholders to work through the hurdles; great advice!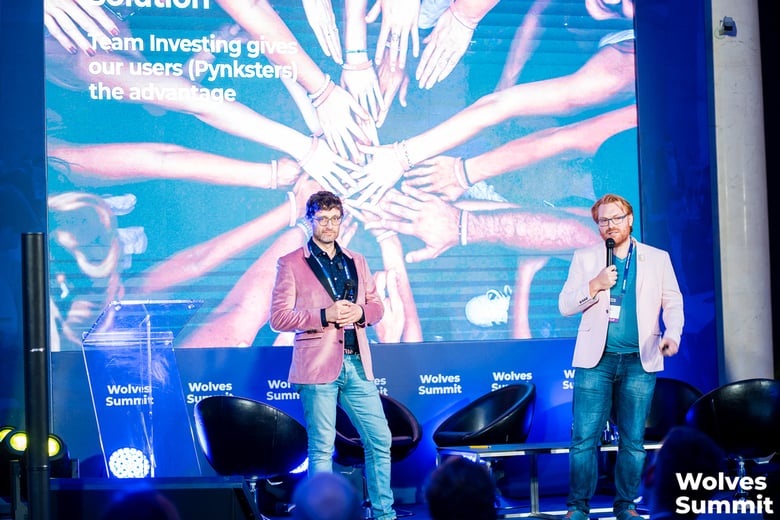 4. Do Good to Go Right
Wolves Summit is an innovation hub. It's where companies, investors, startups and scaleups get talking, to get doing, to get disrupting. Tell us, what's your advice for those entrepreneurs coming to Wolves Summit to find backers?
'It's a bit of a cliche but always start with the 'why'. Purpose and 'doing good' is very much at the centre of what we do here at Pynk. If you're a B2C company, then that's almost a hygiene factor or a necessary prerequisite and that's what gets us out of bed every morning. We're confident in the fact that we're building a better model for investment.

The second piece of advice we can give is to have an open and frank conversation with partners before you startup. Being open and honest with the people closest to you is important, without their backing and support you may find things much harder.'
5. Practice that Pitch!
Okay, so that's the advice for startups for meetings and for ensuring the drive behind the business is right. What about the pitch? Pynk deservedly took out number #1 in the Great Pitch Contest at 10th Wolves Summit in 2019. What's your advice for those pitching at Wolves Summit 11 and beyond?
'Practice, practice and practice some more. We've watched so many pitches from other startups over the last few years and it's very easy to see who has practised and got their key points clear, perfected their pitch. Likewise, it's easy to see who hasn't prepared.

A pitch isn't fixed, it's constantly evolving over time. Our pitch has definitely evolved, it isn't the same as it was 2 years ago. Evolving your pitch is critical, it's something that should constantly be changing as you are constantly pitching all the time. Even if it's just telling someone about your business in a cafe or a meeting, use that.' '
6. Start the Meeting Before the Meeting Starts
In your LinkedIn Live interview with Wolves Summit VP Michael Chaffe, you described meetings at Wolves Summit as 'relentless'. You told us it was critical to prepare well beforehand and make the most of the brief time between meetings to make notes for follow-up. Can you tell us a bit more about how you prepared for Wolves Summit, so those attending for the first time in 2020 can learn from Pynk?
'Whenever we attend any type of conference or event like this we start by shortlisting the people we want to speak with and looking at who we know that could make an introduction as a warm lead is always better than a cold lead. Sometimes it works out and sometimes it doesn't. If you go unprepared you'll leave with nothing. Think of it as an ROI model -you have to pay money for flights and accommodation so make a plan to get that back. Try and quantify it as much as possible.'
7. You Gotta Be In It to Win It
Let's say I'm a startup without a lot of cash to splash, on the other side of Europe. Or maybe I'm a VC, in a whole other part of the world. Do you really think it's worth getting to Poland for Wolves?
'[In CEE region,] talent is abundant, with highly-skilled and educated tech workers - 50% of which are concentrated in Poland, Romania, and the Czech Republic. A vast amount of ​venture capital are searching for new opportunities across Europe, and the CEE region has become increasingly more attractive. The diversified workforce has great potential.

We were thrilled to win the [Great Pitch Competition] event last year. It was fantastic PR for Pynk and raised our profile, but more importantly, we met lots of investors and advisors who we're still in contact with and working with now.'

8. Move that Needle
We know that for an outfit like Pynk, there's always a next step in play. So, what can we expect to see from the team at Pynk in 2020?
'We are launching our investor wallet in Q2 2020. There will be numerous new product releases for the wisdom of crowd product - that's top secret for now so we'll say no more. We can't wait to get back to the Wolves Summit later this year and meet up with old friends.'
There you have it; some hot tips from Wolves Summit favourites Pynk, on how to make the most of the epic B2B networking event, and why you should.
If you'd like to know even more, you can see the Business Insider Poland interview with Pynk or catch up on the LinkedIn Live here.
Wolves Summit 12th Edition: Come Join the Pack!
If you're after the next big tech star to back, a company to intrapreneur with, or funding to be the next big thing, you need to be at the innovators' hub, Wolves Summit. Support global innovation and meet 1:1 with selected tech startups, corporations and investors in Warsaw. To create, network and grow with us, go ahead and sign up today!