One of the ways to reach your business goals, whether you need new partners, clients, B2B clients, investments, social media reach etc. is taking part in relevant conferences. If you have ever been to one of them, you probably know that being there is not enough to find the answers to your needs. To succeed, you need to participate which usually requires real effort and preparation. Taking into consideration that Wolves Summit is rather diverse, it sometimes might be overwhelming, not only for the first-timers. Which is why, we have prepared few tips that will help you make the most out of the conference.

1. Do your homework and set goals.
Find out, who is going to participate in the event as well and how you can benefit from that (they might be your potential clients, investors, people you have been wanting to meet etc.). You can observe our social media, subscribe to Wolves Community, check speakers line-up.
2. Fill out your matchmaking profile
The main difference between Wolves Summit and other conferences is the quality of networking. We focus on short, valuable 1:1 meetings only with relevant people to provide our participants with a platform suited for maximum time-efficiency. The matchmaking tool is designed in a way that give our participants a possibility to put detailed information about their company. Investing time in filling the profile precisely pays off, as it helps set up relevant meetings, increases response rate and helps to choose proper people to meet with.
3. Schedule 1:1 meetings
This is the part that everyone is waiting for, with 3, 1200sqm areas filled with tables, we can hold hundreds meetings in one time. This edition we are expecting to schedule 3000+ of them. 2 weeks before the conference, our participants get an access to matchmaking allowing them to schedule relevant meetings with 200 investors and 300 corporates & executives from 10AM to 5PM on both days. We find matchmaking extremely important and beneficial for any business. Busiest participants had even 45 1:1 meetings in just 2 days!
4. Invest in a booth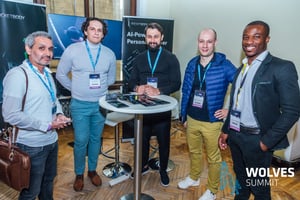 Booth is an additional space in the heart of Wolves Summit where some of the startups can show their business off. Located between major parts of the event, Startup EXPO is always filled with investors, corporates, executives and all the other attendees (f.e. media). Only 20 out of the 300 startups present are given the chance to get a 1- or 2-day booth and take maximum advantage of the additional benefits.
What are my benefits?
1. Boosting your brand's visibility - especially as there is only a certain number of spots provided
2. Attracting all conference participants and assuring they will remember you
3. Showing your product/service to a wider audience
4. Additional benefits - f.e. additional startup ticket
This edition we are expecting (among others) 200+ investors, 300+ corporates & executives. All 1500 participants present are key players of the innovative world and the majority of them is insanely relevant to your business needs and plans. Best case scenario would be to meet them all 1:1, but although there is no real limit given to the meetings scheduled, it is not really possible. The 15-minute-long 1:1 meetings take place for 8 hours a day and Wolves Summit is a 2 day conference. So doing basic math: 15min x 8h x 2days = 64 meetings you have the time for (that is, of course, if you choose not to take part in anything else: Great Pitch Contest, Key Notes & Panel Discussions, Partner EXPO). Investing in a booth means attracting the participants present in one of the most crowded areas of Wolves Summit, having a dedicated space to show product or service in an interesting way to many people at once. More than that, startups that get a booth receive an additional ticket for another team member so they don't have to choose between scheduling meetings and using booth's benefits.
5. Great Pitch Contest
One of the parts of Wolves Summit is the Great Pitch Contest, where 50 best startups get to pitch their ideas in front of many investors and executives at once and gain a possibility to win prizes crucial for their further development in the form of cash prizes, special prizes from partners, qualifications to prestigious mentoring programs, and media packages.
6. Key Notes, Panel Discussion
Wolves Summit brings key players among corporates, executives, investors and startups. All in name of innovation. Throughout the two days of the conference, You can listen to valuable opinons, ideas, research results of many of them and educate yourself more and get inspired.
---
Do you want to invest in a booth?
Boost your brand's visibility, attract a wider audience and use the benefits of being able to show off your product / solution during upcoming Wolves Summit edition.
For the 11th edition we have 20 spots available