"How much am I worth?" Now, that's a cheeky way to start a conversation at a bar. But if you're a startup in the hot new CEE market, it's the question that should be at the top of your mind!
It is no secret that the CEE region is the next hotbed for tech innovation worldwide. From internet vanguard Estonia to growth market champion Poland, CEE is flush with young tech talent. Low operation costs, and prime access to EU markets and beyond are part of the region's recipe for success. CEE accounts for ¾ of Europe's fastest-growing economies. New investment is flocking to the region. But despite that, widespread access to VC and Angel funding is still a new kid on the block in CEE.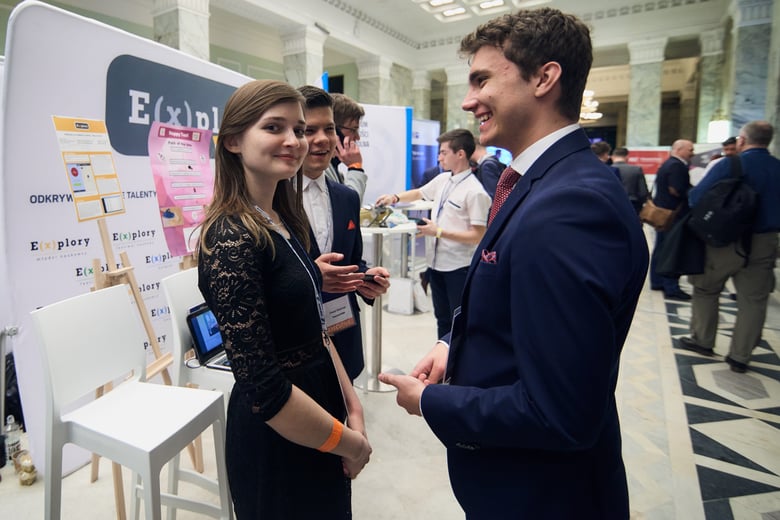 Many startups and accelerator-phase businesses aren't sure how much money they should ask for. Or even what they're worth. As more first-mover venture funds are investing in CEE, these questions get more important. If you are a startup exploring funding, read on!
How Does My Funding Ask Relate to the Development Stage of My Startup?
The first step to refining your ask is to know your development stage. Successful large companies move through at least five discrete funding stages: (1) Pre-seed, (2) Seed, (3) Early Stage, (4) Later Stage, and (5) IPO. At the pre-seed stage, founders experiment with lots of ideas and few resources. They're looking for an initial promising product-market fit. At the seed stage, the venture has initial traction. It's working with Angel funding to get to a profitable business model. In the early stage, VCs and private equity investors add capital and know-how to scale rapidly.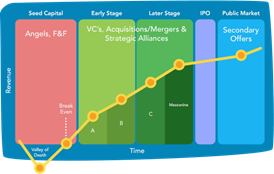 (Above pic from http://www.evus.com/blog/startup-funding-stages/)
Later stage funding continues this trend, basing funding decisions on the soundness of the organisation. Not to mention key metrics with increasingly large sample sizes to reduce risk. Each step requires the new venture founders to trade equity and decision-making power for the capital to operate and scale. VCs ultimately get paid when either the company is acquired by a large, established competitor, or when they become significant shareholders of publicly traded stock in an IPO. Because most startups will never offer a return to investors, VCs and Angels make all their money on a few scalable "unicorns". They need to see rapid 10x or 20x return potential to sign a check. What does this mean for startups in search of funding?
Pre-Seed
At this "out of the garage" phase of a startup, funding is usually limited to personal savings/credit, crowdfunding, or early incubator help until they develop a working prototype and test it in focus groups or with actual beta-testing consumers. The funding ask rule in CEE for this stage is the same as everywhere: Don't approach investors until you have a prototype of your idea that gets people excited and that has market potential. Do, however, ask for feedback on your idea. Iterate and pivot your concept until the feedback is enthusiastic.
Seed Stage
Prototype in hand, and with some initial traction with user samples, the founders now face the "Valley of Death," where good ideas can wither and die because they don't have enough capital to get to market. To cross this valley, you need an Angel, who, in exchange for equity and a seat at the decision table, takes on the risk of funding your startup's operational costs before you turn a profit—and maybe even before you have revenue at all.
So, how much money should a CEE founder ask for from an Angel? Since seed stage is all about transitioning from prototype to revenue-producing organization, calculating the Angel ask is as simple as calculating operational costs for a 12-18 month runway. Since operation costs—mostly salaries—are comparatively low in CEE region, this offers a competitive advantage, since Angels get more bang for their investment buck, or can fund more potential unicorns with the same portfolio budget.
Two critical elements to note here: (1) Be sure to show scalability. Aim for 20x growth in the next 3-4 years. Angel funding is high-risk, high-reward. If the high-upside is not apparent, few Angels will take on the risk. CEE founders often tend to show unhelpful humility in their projections vis-à-vis their Silicon Valley counterparts. Be aware of this tendency and aim for grounded, but aspirational return projections. (2) Important here is not to overly dilute equity in this round. Generally speaking, founders should not divest more than 20% equity in this round. If Angels ask for more than this, it is usually not a good idea to continue, as VC rounds will require further equity dilution, and starting with less will invite the danger of being divested of your own company as early as the A series VC round.
Early Stage Investing in CEE
With a market-tested viable product and a battle-tested team from the seed stage, founders can now approach Venture Capital firms for series A funding. Pitching VCs and meeting and developing relationships with investors can be exhausting work. The table below shows the average number of contacts and meetings for a group of CEE startups in 2016. The most common answer is always "no" on such roadshows, yet this should not discourage. Much can be learned from pitching feedback, and it is all useful feedback to perfect the product.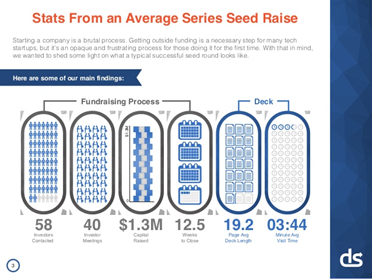 (http://www.evus.com/blog/startup-funding-stages/)
How much should you ask for in an A-series? VCs will tend to want 15%-35% equity in a series-A funding round and to see at least a 10x growth potential over 3-5 years. This has implications for valuation. For a post-seed-stage startup looking for $2 million USD from an American VC, for example, the investors would want to see realistic projections of a $20,000,000 return over 3-5 years. If the deal included 20% equity, then valuation projections should be at least $100 million USD in 3-5 years time, with a plausible path to get there. These are ballpark figures and each venture situation is unique, but it is a useful guideline.
Two critical elements to note here:
(1) Taking VC money requires rapid scaling and the ability and personality to adapt to changing roles. With subsequent rounds of funding, the creative rounds of pizza-fueled problem solving give way to formalized board procedures with industry-hardened CFOs. Culturally ambiguity-averse CEE founders will have to practice feeling comfortable projecting confidence across such changing roles to win the confidence of their investors.
(2) Relationships are critical. VCs and Angels live and die by their ability to pick the occasional unicorn. Often future unicorn companies present themselves in pieces: An initial pitch is forgettable, with a sleepy CEO or an idea that doesn't scale, but the CTO is brilliant. A year or two down the line, in a new combination, that CTO could be part of the next Apple or Instagram. Wise VCs look for diamonds in the rough, and to build relationships of trust early on in the game. Wise founders look to connect with investors in the same way—as early as possible, and then to work actively to keep those connections warm.
It's a Numbers Game: Boost Your Numbers at Wolves Summit
In short, once you have an idea prototype and any traction at all whatsoever, it is time to start building relationships with investors. Enter Wolves Summit, the international business summit October 23-24th in Warsaw, Poland, designed specifically to foster ties between CEE startup talent and international investment. Featuring over 200 international and local funds investing in CEE, 300 startups, and 3,000 hours of one-on-one meetings between the two, Wolves is truly the place to find out: "How much am I worth."