The world of startups is absolutely fascinating; it's all about the story, the team that makes it possible, and the innovation that lies at the heart of each idea. Looking from a more pragmatic perspective, it also all boils down to finding a solution everyone was seeking but no one was building. The good thing is that one good pitch can change it all.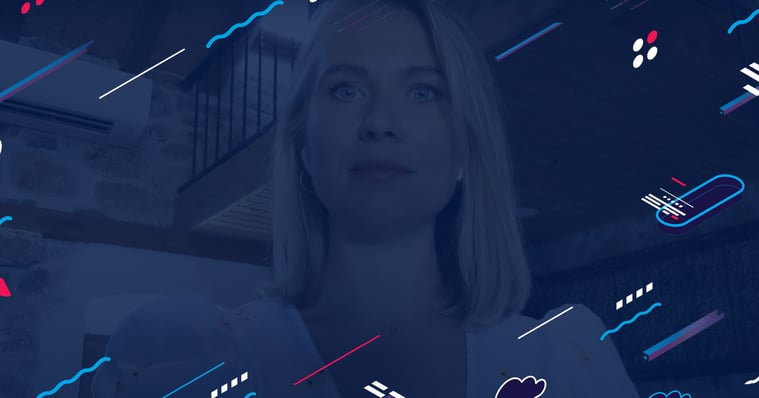 We've invited Holly Stephens, CEO & Founder of Subly and former participant of Wolves Summit, spring edition of 2021, to dig a little deeper into her entrepreneurial mindset and the importance of preparing a good pitch for the right place, at the right time. For those of you who don't know (yet), Subly is a simple but ingenious solution that helps individuals and businesses worldwide to create and maximise accessible content by automatically transcribing, translating and adding subtitles to video and audio content. With a seed raise of $1M from investors including Loyal VC, Wayra (Telefónica), and AI Startup Incubator in May 2021, we can say that Subly is skyrocketing in the startup world. This has to get you a bit curious about the story behind it, right?
Living the dream, or living on the edge?
After a good talk with Holly, I came to the conclusion that each experience can change the land of opportunities for a startup. Don't take my word for it; see for yourself what's behind a pitch and a great idea.
What were the beginnings of Subly and how did you come up with the idea to set up that startup?
85% of the content on social media is watched without sound. When you add subtitles, it increases engagement by 80%. This is huge! The reason why subtitles don't get added to videos is that it is time-consuming for creators, teams, and businesses, and adds another step before the video is ready to be published.
I know this because I experienced the same problem myself when I had a YouTube channel. I've also worked in marketing communications for Google, Xerox, and multiple tech companies. They had the same problem.
Subly is that solution; a platform that automatically transcribes any video, any audio file, and the end-user can edit the transcript really easily to repurpose the video or audio by embedding the subtitles. They can add their branding, they can translate into 31 languages, and then export that transcription in various subtitling files as well as text files. You can also just have the video with the subtitles in different size formats, ready to sharesend across social media or your internal environments.
Take me through your experience at Wolves Summit, the March Edition in 2021. How would you describe it?
It was a great experience to meet entrepreneurs from all over the world and connect with tech and innovation peers. Entrepreneurs like us need to stay close to the ecosystem and get insightful tips from specialists and investors. At Wolves Summit we had the chance to see other startup representatives pitching on stage, which is a valuable learning experience for future presentations in front of the investors.
It's a weird feeling, that you're kind of in a whole new environment of pitching and networking. The good thing was that we have already been through 2 semi-finalists competitions before. And we won the special AI prize which was fantastic.
Let's break it down. What are the things that matter when pitching and setting up a relationship with an investor?
Really, it's the delivery, but also getting someone to understand the pain point that you're solving.
We had 3 minutes for the pitch; really short, but kind of easy to put together. It was good for us that we were able to showcase to other entrepreneurs what they could achieve in a short amount of time with the right product-market fit.
We focused on our offering and the traction we had by that point, for 12 months. Let's just say we had a lot of traction with 60,000 users already using our solution. That led us to start a conversation with Angelo from the AI Startup Incubator. I think having such a great company helping us with some of the challenges we may face in the future could probably make us more successful in the market.
Like Angelo, all the investors have supported us because they understood our problem. They actually understand the pain point that we are trying to solve for individuals and businesses globally. It wasn't necessarily about the money, rather the use case of our solution, and how we are going to disrupt this space.
Let's not forget that the problem-solution approach is only a part of the pitch. Investors are people just like you and me, so they want to trust the team that aspires to build up a life-changing solution.
Talk around your team, your experience so they can get to know you and start building trust. At the end of the day, they actually invest a lot in the founder and their experience and how they can scale it.
What was the main reason to attend the conference? And what are the next steps?
In the beginning, we were introduced through Lisa, at UCL. Obviously, we were always eager to join other startups and communities and that's what sparked our interest in Wolf Summit. It turned out to be an amazing experience to go through the process and present the idea alongside other great startups.
What happened after receiving the AI special award from our startup incubator, what was the route like?
Not only was I able to connect them with Angelo directly, and even go into more detail around Subly and our achievements, but we also planned a Seed round in the future. The most important thing when looking for funding is the match with the investor. What we saw from working with Angelo, is that there was a mutual connection between what we needed, the scaling options we had ahead, the features of Subly, and how they can support that. That led to a number of meetings for a couple of months, and we finally closed the deal. It can take more than expected but it's worth going through the process.
What are you looking for in an investor, generally speaking?
A lot of our investors actually understand the pain point that we are trying to solve. And that's where those investors have come from,m. It hasn't necessarily been that we need the money, it's actually that they understand the use case, and how we are going to disrupt this space. The investors we've brought on board help us in a specific area of our business and act as mentors for us. So, we want investors that have been on that journey with us, too.
What are the next steps?
Our mission is to make all content truly global. And to make it a lot easier for content creators to transcribe and repurpose their content from a video or audio file. Repurposing refers to anything ranging from size formats to adding or translating subtitles on the video to reach more audiences and also downloading the transcript to create more types of content.
We had a great experience working with Wolves Summit. It's important for us to stay in the loop and be part of this community, as together we can build solutions for other creators and startups.
I know that you rely on your community. How do you engage with them?
We really pride ourselves in being different from our competition in the community that we've built.
We've managed to create great user-generated content and feedback loops so that the community could help us grow globally. We get to learn a lot from people in our community, we get to understand what they want next and what pain points they're still struggling with, and what would make them work with another company rather than Subly. We all work together to maximize our potential and ultimately help our community access a simple, easy and reliable tool for their content.
Entrepreneurship 2.0
Talking to Holly I noticed some aspects of her mindset that reminded me of all the entrepreneurship books I've ever read. Alongside the passion and genuine enthusiasm of talking about Subly as well as the experience of pitching at Wolves Summit, it sparked my interest in the way she included customer experience, feedback, investor relations, and most importantly, the community into the business vision. I guess you know an entrepreneur is built to run that business when they are the number one supporter of what the business is providing, before selling.