Since its very beginning, Wolves Summit has been our answer to a worldwide problem of finding and meeting with the relevant people from the tech community. We focus on quality, time-efficient, valuable networking that supports innovation in technology. This is why we believe that the matchmaking system is undeniably one of the most important qualities of our event. Wanting to ensure that your conference experience will be whole, we have prepared a step-by-step guide that will help you discover Wolves Summit Matchmaking system and fully understand it. Here's everything you need to know about it.
WHAT IS WOLVES SUMMIT MATCHMAKING AND WHY DO I NEED IT?
The key focus of Wolves Summit is to support innovation in technology by improving the way one meets with people relevant to their business needs. We have introduced a format of 15-minute 1:1 meetings between the participants of our conference as, basing on our experience, 15 minutes is a time long enough to decide whether you have common business interests and are willing to move the conversation forward. We provide three 1200sqm areas with places dedicated just for this format. Wolves Sumimt matchmaking is a system that helps you schedule 1:1 meetings with relevant people before and during the conference and make sure your time will be used to its maximum.
I can certainly say that the matchmaking facility for Wolves Summit is one of the best I've experienced in Europe. For me, the highest value out of the conference is the quality of the matchmaking tool. The fact that I am able to do such good meetings at Wolves Summit is the thing that I really enjoy the most.

Chris Haley
HOW MANY MEETINGS CAN I SCHEDULE?
Each meeting lasts for 15 minutes. If you're coming to Wolves Summit just to meet with relevant people 1:1, you can scheudle +60 such meetings. The busiest participant of Wolves Summit had 53 meetings in 2 days, however we will not set any limit on you, you can schedule as many meetings as you want to.
IS THERE ANY OTHER WAY TO NETWORK DURING WOLVES SUMMIT?
Yes, except for the 1:1 meetings, we organize Networking Party (available for all type of tickets), VIP Party (available for Executive, Investor and Corporate tickets) and Investors Evening (available for Investor tickets). You can also meet people the traditional, coffee-break way; you will definitely expand your network, however, if you value time-efficiency and set yourself a business goal for the conference, we recommend you to use matchmaking to the fullest.

WHO HAS AN ACCESS TO WOLVES SUMMIT MATCHMAKING?
- Executive Ticket
- Investor Ticket
- Corporate Ticket
- Startup Ticket (only one member)

WHEN IS IT THE BEST TIME TO START SCHEDULING 1:1 MEETINGS?
Two weeks before the conference we send out the access to matchmaking system to each participant with the appriopriate ticket (as long as you got your ticket before that date). We recommend you to start scheduling the meetigs right away when everyone still have free spots left. Later on it will be getting more and more difficult to schedule meetings with everyone you want to meet.
IS IT WORTH IT TO USE MATCHMAKING SYSTEM?
Whenever you are going to some event or you are starting to look for new opportunities, it is always great to have some kind of help. I think this is the perfect place where matchmaking is coming in. It is something that allows you to browse through whatever catalog or group of lists and guides you through the process of locating who will be the interesting person or who is the interesting company that you can do business with. And this is a really important aspect, because sometimes if you are checking out a big number of people or companies, you are simply getting lost. So having a one place or some kind of a tool that allows you to reach your potential business leads or potential partners with ease, is really important. That's why I think the matchmaking is addressing this problem and it is definitely helping out to bring your business to the next place.

Chris Kobylecki
HOW TO USE MATCHMAKING SYSTEM?
2 weeks before the conference (as long as you got your ticket before that date) you will get an access to Wolves Summit Matchmaking system via email. Once you click it, you will see the man login screen.
JOINING WOLVES SUMMIT MATCHMAKING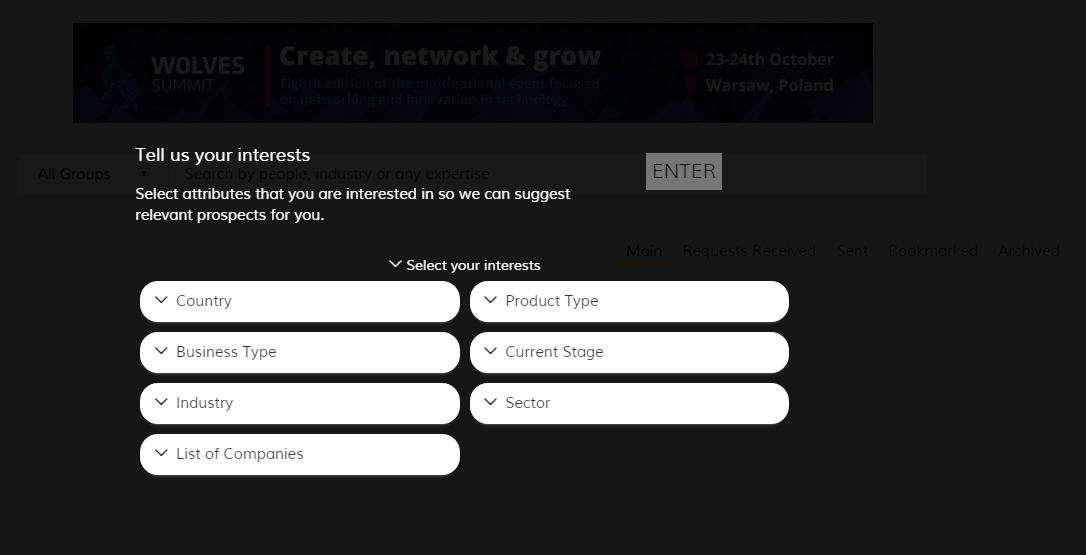 This is where you will select what you are interested in (not the the attributes that describe you). Our algorythm will then suggest the participants most relevant to your needs (keep in mind that not all of the participants will access their accounts right away, we recommend you to come back to the matchmaking system at least every day not to miss out new participants that might be relevant to you).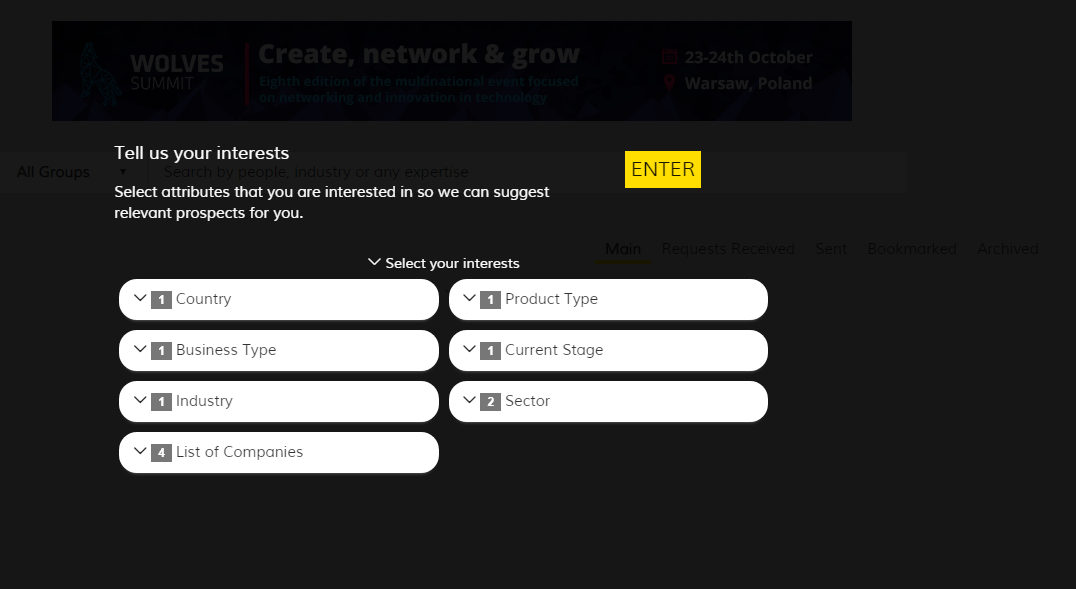 You can choose multiple options, the number of them you have chosen will appear next to the category. Only when you select attributes you will be able to click enter and start scheduling meetings.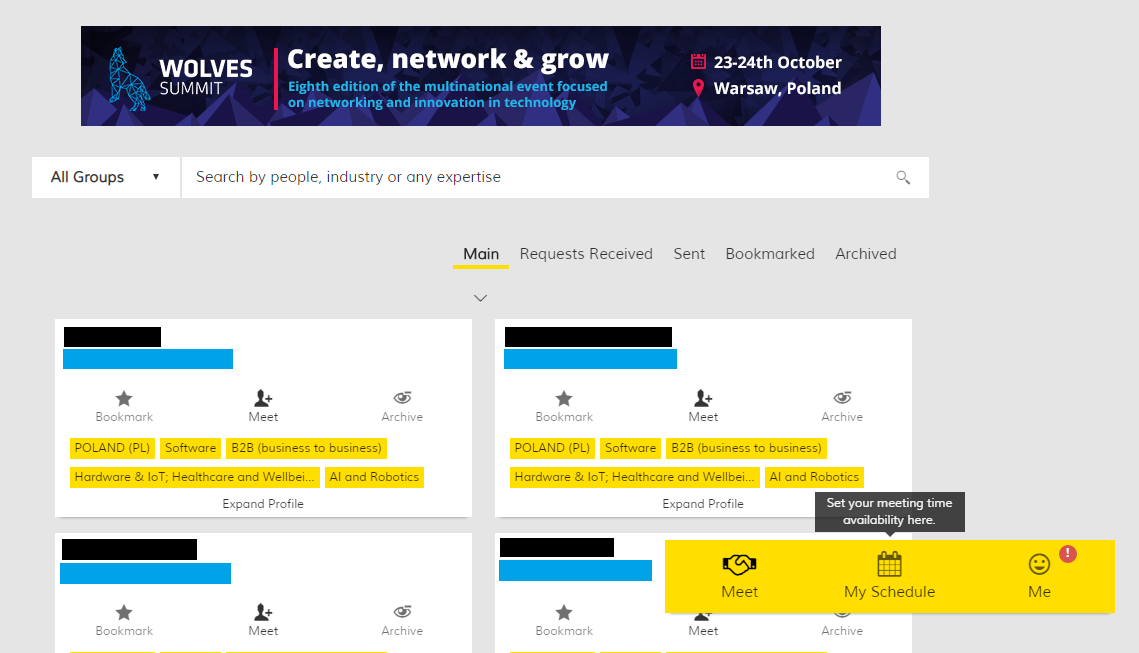 Once you've chosen the attributes you are interested in, you will se a main view of your matchmaking system. Congratulations! You can now start scheduling meetings. The white rectangle windows are the people that have been suggested to you basing on what you have chosen in the previous step. The black rectangles cover name and surname, blue ones company. The yellow ones show the attributes other participants are interested in. The other options you have access to from the main page are:

- Requestes Received (where you'll see if someone has sent you an invite)
- Sent (where you'll see the requests you have sent)
- Bookmarked (where you'll see the participants you have bookmarked)
- Archived (where you'll see the participants you have archived)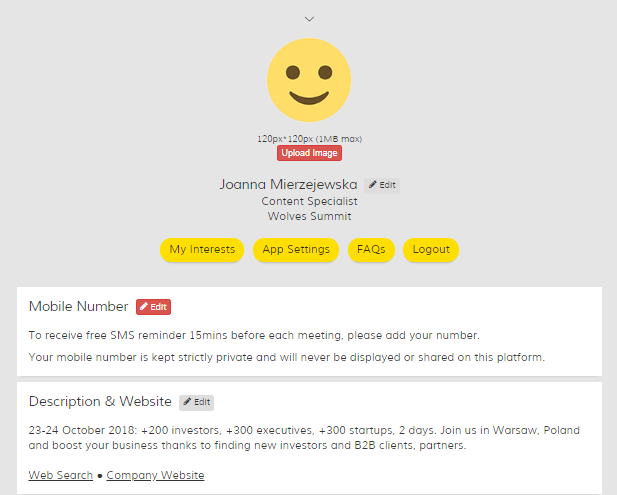 By clicking "Me" in the yellow panel in the right bottom, you will access the page with your information. We recommend you to fill it right after you access your account. Do it as thoroughly as possible. It is one of the key things other participants will look at while choosing who to meet up with. This way your request-to-meeting conversion will be higher, as wanting to make the most out of the experience, other participants might not accept those, whose information is not precise.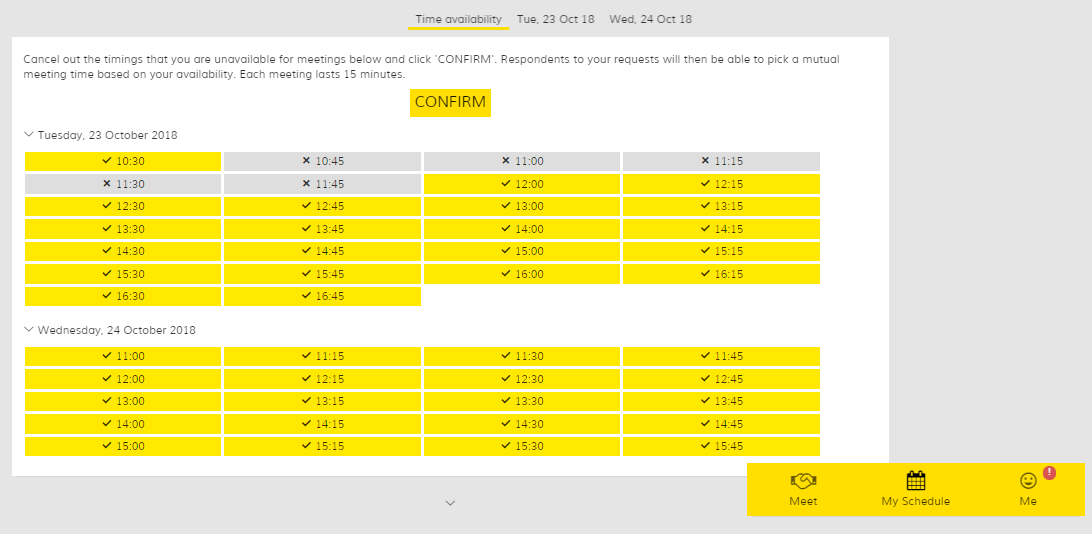 Wolves Summit is a complex event offering multiple opportunities for its participants. If you know you will not be available to meet throughout the whole conference (you're speaking at a panel, you're pitching etc.), you can remove those slots from your availability. You need to confirm your availability before requesting a meeting.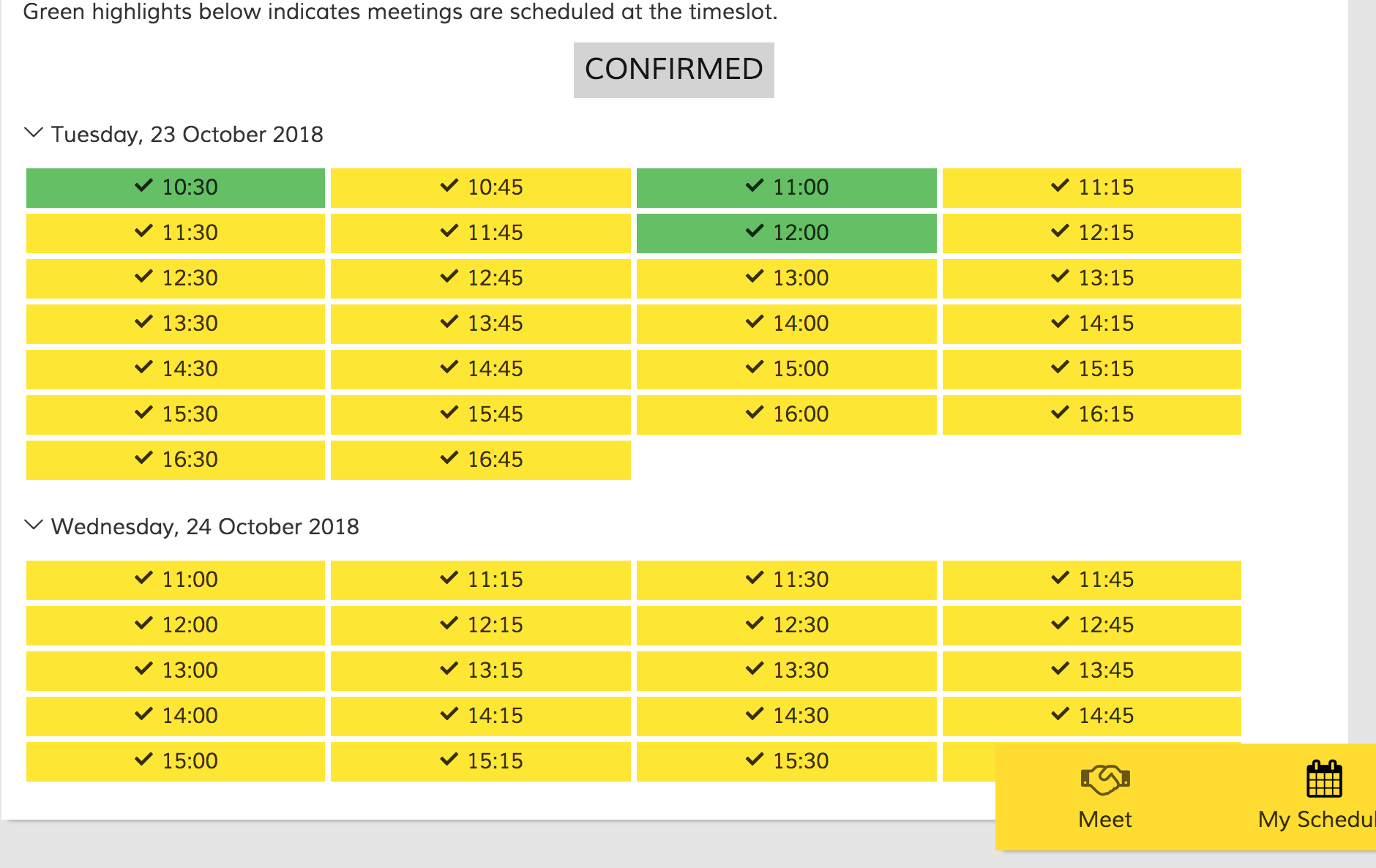 Once you have meetings scheduled, the relevant timeslots will appear green (you will find all the information regarding scheduling meetings below)
Once you confirmed your availability and added information about you, you can start sending requests for meetings. As mentioned before, on the main page you'll find profiles suggested for you basing on the preferences you have given in the step 1. If you want to search for a specific type of participants or you want to check out the ones that don't fall into the cattegories you have chosen during the first step, you can search using the option at the top of the screen and check all that apply to your needs and interests. Our algorythm will then suggest the participants that fit chosen criteria.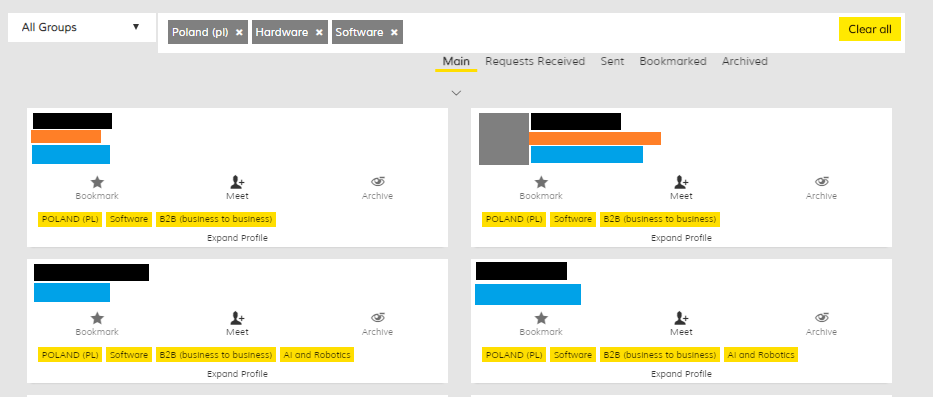 The orange rectangles cover the position and the yellow rectangles below are the criteria you have in common (they would appear gery if they were interested in something you are not).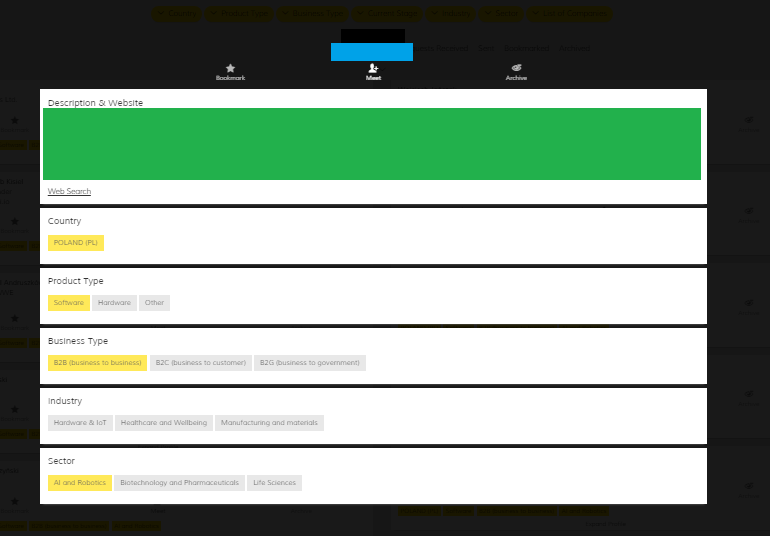 Once you find someone that interests you, you can check their information by clicking "Expand Profile". You will then see other options they have chosen and will get a chance to read about their company (green rectangle).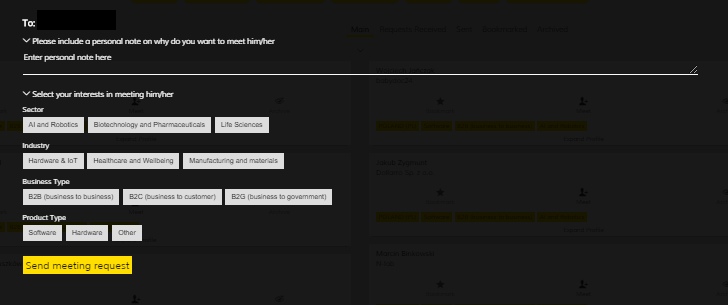 Once you find someone you want to meet with, you can send them a request to meet by clicking "Meet". Then, you will have a chance to select your interests regarding the meeting and include a personal note to them. Keep in mind that the note is often the first thing our participants take into consideration when deciding on who to schedule a meeting with. We recommend you to write it pitch style, short, specific and concrete. Once you are happy with the content of your request, you can send it by clicking the yellow button below.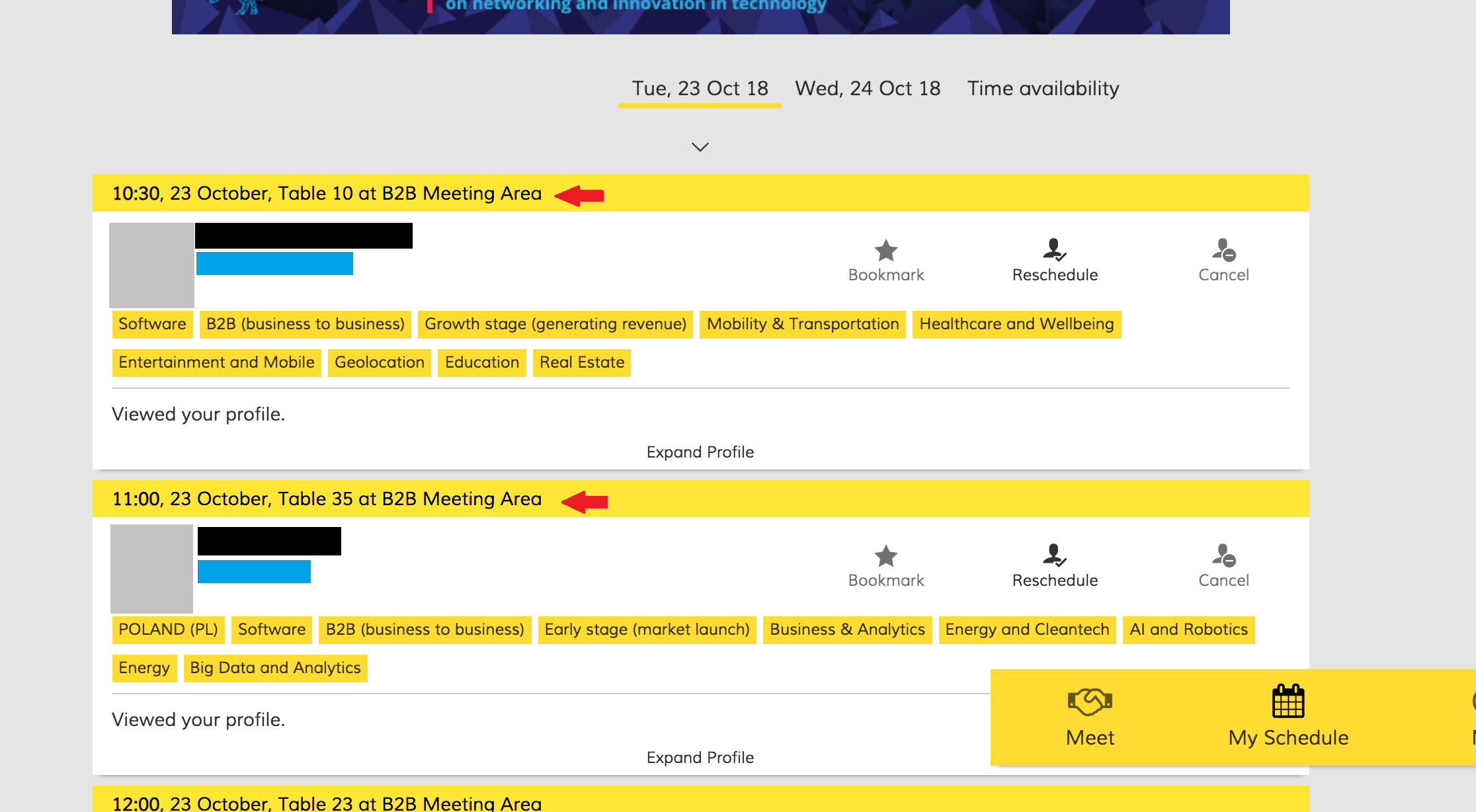 Once your request is accepted and you schedule a meeting, you will be able to access them by clicking "My Schedule" in the yellow panel in the right bottom of your screen. For each meeting you will get a special table assigned that you can see in the yellow panel above the data of person you're meeting with (check the red arrows).
I believe matchmaking is really crucial. I would recommend the Wolves Summit matchmaking tool to basically anyone.

Pavel Jiranek
If you are joining Wolves Summit and you are reading this less than 2 weeks before the conference, we strongly suggest you to access your matchmaking profile and start scheduling 1:1 meetings if you haven't done it already. The matchmaking formula is the reason why many of our participants join and come back to Wolves Summit every edition, so the longer you wait, the more difficult it might be to schedule the meetings with people you are the most interested in.
We are wishing you a very productive day.