If you haven't heard of SwipeStox yet, you've got some catchng up to do. This Germany-based startup developed a revolutionary social trading app, which can be called a Facebook or Tinder for trading. It's simple, yet brilliant.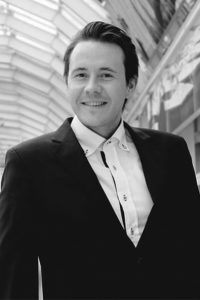 In a recent interview with Wolves, Wladimir Huber, the Co-Founder and Managing Director of SwipeStox, shared his experience with the conference and told a bit more about plans for the future.
Wolves Summit: Congratulations on establishing partnership with Forex Capital Markets LLC. What changes will it bring to SwipeStox?

Wladimir Huber: It shows that SwipeStox is the best product out there for traders. It will allow us to close more partners and to get more awareness in the market for SwipeStox. In the end it is all about growth.
Do you think Wolves Summit was a turning point in your company's development?
It was certainly an event that gave us more confidence that what we are doing is the right thing and demanded by the market.
The 4th edition is getting closer. What advice would you give to startups, who think of joining Wolves Summit?
Just apply, prepare your pitch and convince the audience. Make sure to have a product and a solid business model – know which KPIs you need to reach in order to succeed.
What are your plans and ambitions for the future?
Becoming the biggest social network for traders and to reach 1 000 000 active live traders by the end of 2017. We also plan to expand to Asia in the near future.
The European startup scene is experiencing some positive changes but there's always room for improvement. What should it focus on in your opinion?
The scene should focus on innovation and not on copying other business models. Europe and the people here have their strength and we should focus on them instead being risk averse and watching what is going on in the Silicon Valley. Innovation is what we need. Also more investors. It is not always about EBIT but more about growth and the vision – especially in the beginning.
Thank you for the interview.
---
LOOKING FOR VALUABLE BUSINESS CONNECTIONS?
You have an incredible business idea but you cannot get to proper investors?

Download free investors book and get direct contacts to 100+ investors!