In the CEE region investments are increasing 150% year on year – and this is the moment to get in on the CEE investment action. But where to start? It all depends on what you want to invest in, as there's certainly no shortage of options. Here, we'll give you a preview of the sorts of startups you can meet at B2B matchmaking, to invest in, advise, and watch grow beyond all expectations. All you need to do is book your spot at Wolves Summit and get networking. Ready to take a look at what investment potentials are on offer? Let's go.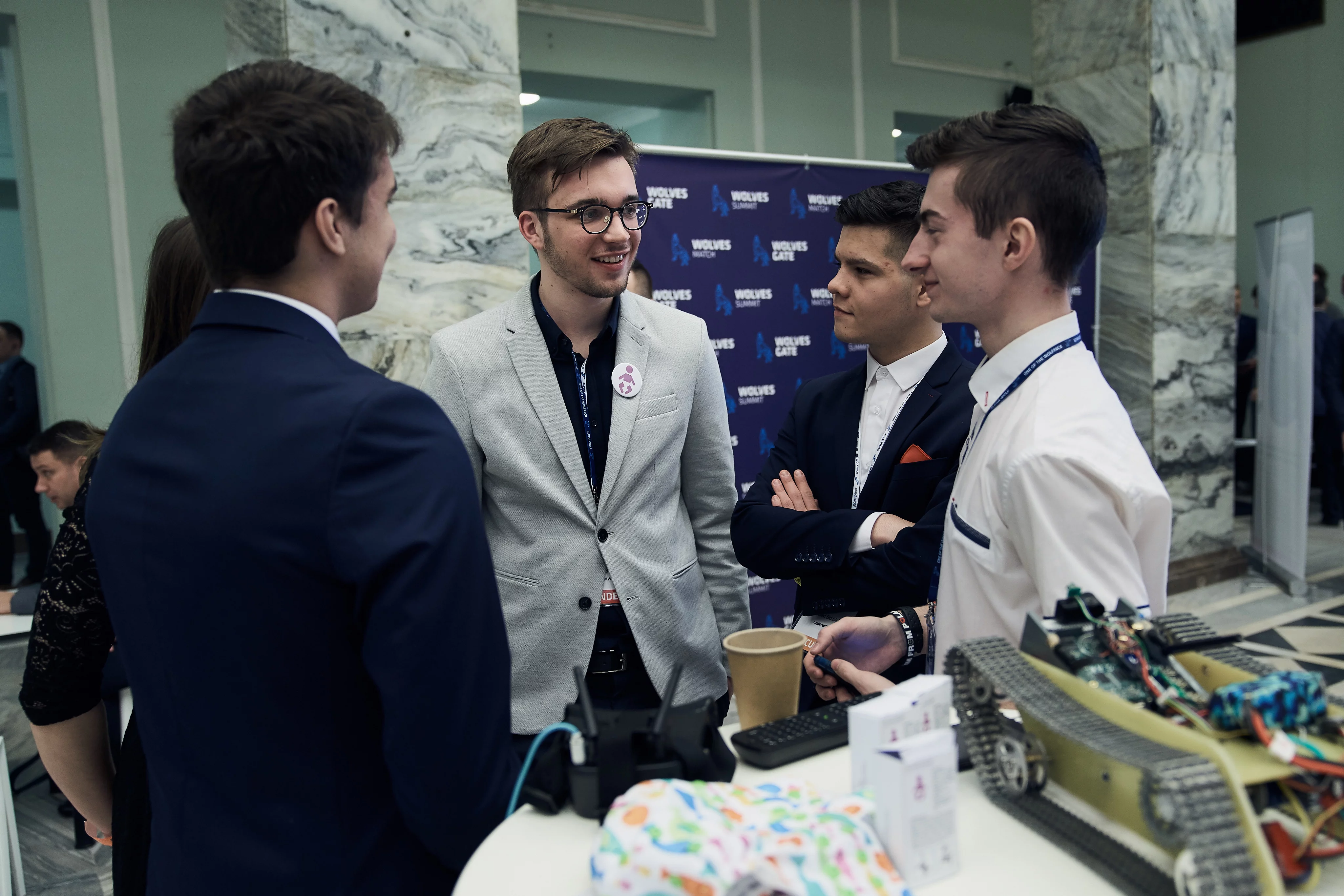 CEE Investment Opportunities at Wolves Summit
Let's face it, as an investor, your time is limited. We get it; you need to maximize how you spend it. You need a forum where you can have a bunch of meaningful B2Bs with innovative startups. That's where Wolves Summit comes in. Let's have a quick look at the sort of impressive CEE startup talent we saw at the 9th edition of Wolves Summit.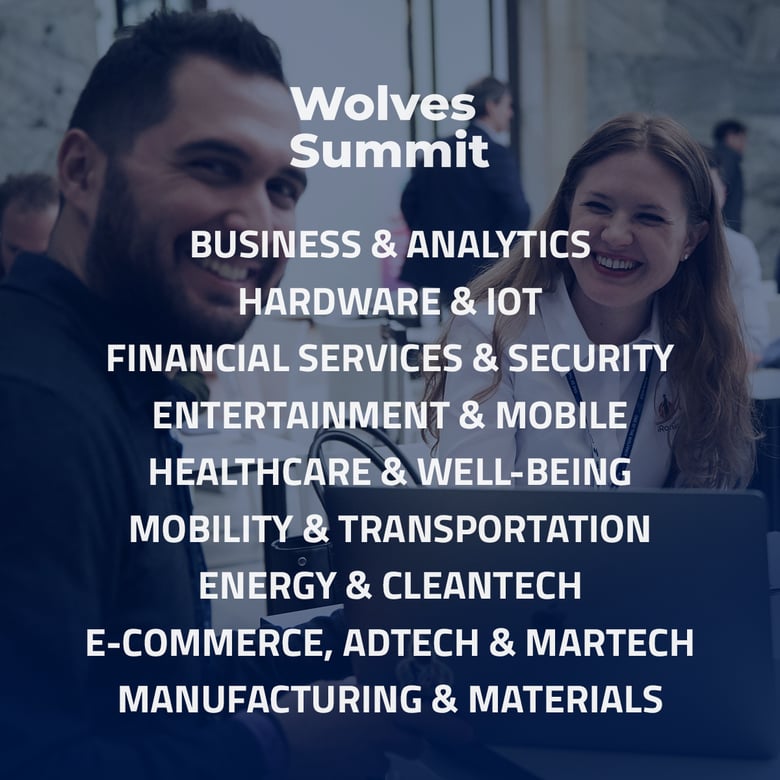 Graphic: Industries present at the Wolves Summit conference
AI & Robotics Startups
EESTI ÕIGUSBÜROO OÜ – This Estonian tech is like Uber for legal services, a convenient, personalized service that meets you where you're at. Let's say you want some legal counselling. Using their platform, you can send documents to a lawyer and get written feedback and guidance, all online. Late last year the group announced the creation of the first Estonian-built robot-lawyer that can help prepare response letters to claims sent by collection firms, a service they offer free of charge.
SMARTLIFE SYSTEMS – AI-powered robots and toys that boost children cognitive development in a wide spectrum of capabilities. While interacting with their Robot Toys a child learns important patterns in the natural and technological environment in contemporary society. The potential of this technology is enormous in both home and work environment and is now within reach thanks to this Polish startup.
WELLPARKO – This startup from Lithuania is helping parking companies and municipalities reduce the need for parking enforcement officers, optimize their operations, and create value, all using robots. In addition to this, their technology allows drivers to check parking slots' availabilities in real-time via mobile app or installed LED signage.
AgriTech Startups
KATANA TECHNOLOGIES OY – You've heard of the Internet of Things. But have you heard of the Internet of Chicken? Of course you haven't – 'cause these guys just finished inventing it. This Finish startup solves poultry farmers' problems by providing a subscription-based IoT service that gives meaningful and actionable business insight to chicken farming, through the use of computer vision and AI.
PLANTALUX – From Poland, these guys have designed and built LED horticulture lamps that enhance the growth of greenhouse plants, and help reducing energy in a sector notorious for energy consumption. Their IT system connects the lamps with sensors and allows for automation and remote management of greenhouse production.
SMART SOFT SOLUTIONS SP. Z O.O. – Remember the global panic in 2009 with the outbreak of the H1N1 swine flu virus? Such viruses can be catastrophic and a constant concern for farmers in the pork industry. Smart Soft Solutions deal with the welfare of pigs. Their self-designed thermographic sensors detect the first symptoms of diseases at an early stage and quickly alert veterinarians. This means faster, earlier – and therefore more effective – treatment decisions.
Big Data and Analytics Startups
SALESBOOK – This Polish startup showed us their business ability as well as tech know-how by winning The Great Pitch Competition at the 9th Edition of Wolves Summit. Their next-generation application helps salespeople do what they do best even better. Salesbook is an innovative sales and presentation tool for mobile sales teams whose task is to speak face-to-face with customers, analyze their needs, present and configure products.
NO.ID – With every big security breach we all get more conscious of just how much data about us is 'out there'. This Polish startup provides peace of mind by letting you mask yourself online with a multitude of fully anonymous and secure identities. The result? When you move from no idea to No.ID you get data-breach protection and say goodbye to spam.
Biotech & MedTech Startups
BABYDOC24 – There are few things as unsettling for new parents as a sick baby or child at night-time, right when it's a nightmare to get easy medical care. Enter BabyDoc24, a Polish solution offering using machine learning and AI to make paediatrician healthcare more accessible and affordable for everyone. Now we can all sleep better!
COSMOZOO – For decades the promise of technology has been to make our lives easier. Poland's CosmoZoo definitely lives up to that promise for pet owners, veterinary doctors and any businesses related to pets. It allows you to schedule a visit to the vet clinic, access telemedicine, and automate business processes and predictive medicine.
GreenTech Startups
FLUSHWAVE – Ukraine startup FlushWave offers a system that collects, cleans and disinfects greywater from sinks, bathtubs, washing machines etc. and reuses it for toilet flushing, car washing or lawn watering. This technology has a definite future in a world with a growing global population and rapidly reducing water reserves.
HANDEREK TECHNOLOGIES – Out of Poland, this company offers a groundbreaking patented technology that converts waste plastic to fully normative diesel and gasoline fractions. That means companies can generate a highly profitable revenue source from what was previously a disposal expense.
Just the Start of Startups on Offer
Not a bad selection of high-potential innovators, wouldn't you say? This list makes up less than 3% of the 477 total startups at the 9th Edition of Wolves Summit. What's more, we selected these companies at random – by no means are they the only big potential CEE tech offerings at Wolves Summit.
If you're an investor or company interested in CEE investment opportunities, you need to get to the 10th Edition of Wolves Summit in Warsaw, Poland, during October of 2019. Sign up for a ticket today so you can get scheduling a busy B2B matchmaking agenda, making the most of your time to find the best potentials for investment in the CEE region.
If you're ready to get on the next big thing - while it's still a startup with great potential, buy your ticket today.