The automation and digitalisation of everyday processes and actions become more and more natural for people around the world. So much so that many of us expect to have a possibility to pay the bills and buy needed products online, in the quickest, most efficient way possible. However, there are still situations in which we have to use the offline method, for example signing documents…
or are there?
Autenti, a Polish startup that joined Wolves Summit in 2016, has an answer to this question.

A GREAT PRODUCT-MARKET FIT
The tech startup mentioned earlier proves that we don't have to be bound by "the old ways" anymore. Their one-click e-signatures not only save time but also positively influence the climate by making the process paperless. This brings a significant benefit of getting business deals done much faster than in the old-fashioned, so-called "physical" way and guarantees the reduction of operational costs. Another benefit is a positive impact on the environment.
We are proud to have hosted them at Wolves Summit in the past and that their participation has helped them achieve their goals.
JOINING THE WOLFPACK
The main reason Grzegorz Wójcik, CEO and Founder of Autenti, decided to join Wolves Summit was having the opportunity to meet many innovative companies, business partners and investors from all over the world in one location. Their primary goal was to set up as many 1:1 meetings with potential customers as possible and tell them more about the e-signatures that they offer.
Using the matchmaking tool before the conference increases the substantive quality of meetings and usually converts into better outcomes in follow-up actions. In the startup world where the speed of activities matters the most, this is a great value. Wolves Summit's matchmaking is incomparably simpler compared to booking and visiting clients during traditional office meetings.
In addition to taking part in the meetings, Autenti decided to compete in the Great Pitch Contest (a pitching competition for selected Wolves Summit startups) to broaden their visibility by presenting their company to a broader audience.
A CHAIN OF POSITIVE EVENTS
Grzegorz had no idea how much that decision would change their future. He and the other founders of the company have still had their "primary jobs" at various corporations, the startup was still very young. Nevertheless, their plans, solutions, product-market fit and engagement were exactly what the investors and corporates present at the conference were looking for, and which granted them the main prize in the Great Pitch Contest.
Winning the Great Pitch Contest initiated a chain of positive events. The most important of them all was - as we call it - "the Founders commitment". We decided to resign from working at corporations to join Autenti with full-time engagement and jointly recruited a team dedicated to the execution of our goals. We received a lot of market attention which converted into the acquisition of new customers.
WHERE ARE THEY NOW?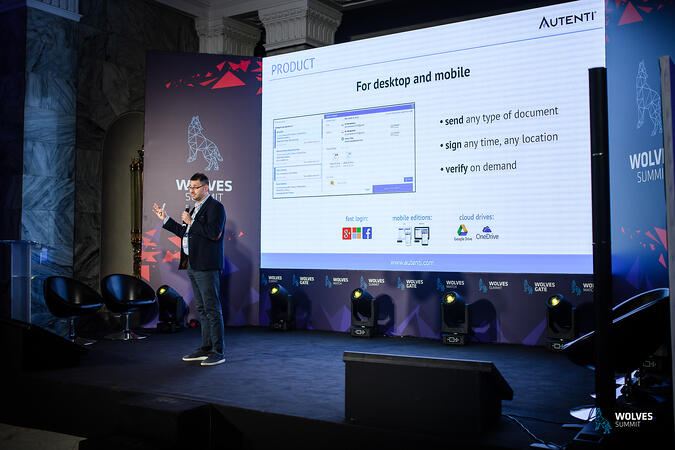 Grzegorz Wójcik returned to Wolves Summit in October 2018 where he spoke on stage, sharing the story of Autenti. Since 2016, they have raised around EUR 1,5M from Innovation Nest and Black Pearls which they invested in product development and sales activities. Despite that, Grzegorz believes that Autenti's most significant achievements so far are establishing a comprehensive team that builds Autenti together with the Founders, upgrading the product into Enterprise level which enabled the deployment of Autenti platform for financial (banking, insurance), and having a contract with BGŻ BNP Paribas—bringing Autenti platform into large scale implementation in a consumer market. Their next milestone is to open global sales.
Autenti accelerates document approvals using one-click e-signatures by providing an internet platform that enables business and consumers to approve any document, to get rid of printing tons of paper, and to save on transport. The next milestone for the company is to open global sales of the platform.