"I understand the importance of networking, but it just doesn't come naturally for me. I don't really like it."
Although people who join conferences like Wolves Summit are usually very impressive, successful top players of the business world, many of them either struggle with networking or at least are not fully satisfied with its outcomes. What we have noticed during many conferences we have been to (including our own) is that majority of those people do have much to offer, they just forget that networking, as a form of sales, is a skill that you need to train.
Have you ever found yourself thinking "How do I find new clients?" or "How do I approach networking in a way that will bring a real value to my business?"?

Maybe it doesn't feel comfortable for you to approach people and talk to them? Maybe once you stick to one person, you'd rather stay with them for longer or maybe it's the other way around - you don't know how to finish conversation without sounding rude? If your answer to any of those questions was "yes", this post is for you.
Here's the essence of best Wolves practices that will help you master networking
STEP 1. Planning and preparations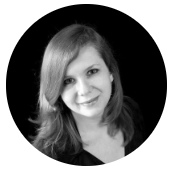 These kind of events like Wolves Summit are a great opportunity to network, to meet the companies, to showcase. I've seen investors here from all around the world and they are coming to see the great companies that are here in the region, not only in Poland.

Agnieszka Stasiakowska, European Commission
Remember to choose events, which have a well-profiled target group and preferably a tool to schedule meetings before the conference. Planning ahead saves a huge percent of execution time and allows you to make the most out of the experience. If you don't want to lose time during events and walk around pointlessly, plan:
people or brands with priority 1 - those, who are crucial for your plans and goals, people you have to speak to (promise yourself not to leave the event until you've done it)
people or brands with priority 2 - those, who you want to meet, you need to get at least to a part of them and get their contacts
Find information about all applications or sub-events that are available only for chosen participants or those, who pay extra. If you can afford to pay the difference and get to where your selected clients are - do it.


Always check, if the organizers provide a matchmaking app to schedule meetings. For example, Wolves Summit's matchmaking tool lets participants set up meetings with relevant people two weeks before the conference and provides them with all the valuable data and information needed to choose the best people to meet with. So far during all Wolves conferences, our participants have scheduled 19890 1:1 meetings.
This option saves time and maximizes the effects at the event. The attendees can set up even up to 60 1:1 meetings that last 15 minutes. All that in just 2 conference days. Remember that the right preparation gives you huge results, so if you are provided with such tool, fill it precisely. Additionally, set yourself a specific target of how many contacts you want to gain. Our mind works a lot better if it knows, what results it's going for. But don't make it 10 contacts, set yourself an ambitious goal, if you join a conference gathering 1500 participants and your goal is 10 contacts, you won't even get to 1% of people who might bring real value to your business.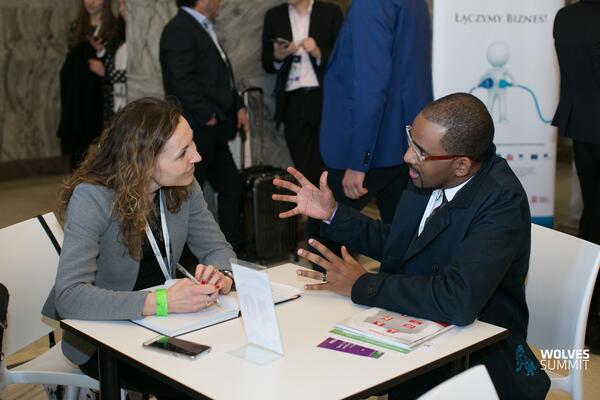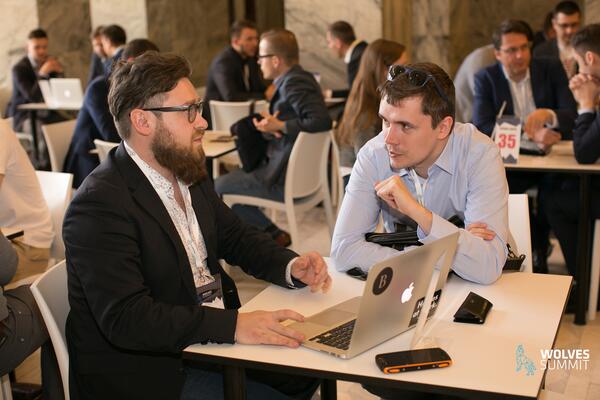 Once you've set your goal, check how much time you have and on average how long can you speak to one person to fulfil it. Of course, each group and client type may require different time limit for a conversation. Nonetheless, it ought to be 5-15 minutes, not an hour. If the event provides a matchmaking application (scheduling 1:1 meetings), buy a ticket that allows you to use it. Then, reserve some time to send out as many invitations to other participants as you can. Remember to filter out the profiles you are interested in. You need to prepare a good message you'll be sending - a short 2- or 3-sentence long pitch explaining why you want to meet up and talk. Additionally, make sure you complete your own profile fully and completely, add a description, so that others can find you easily.
STEP 2. Networking
There's a lot of meetings <here> and I have to say all of the meetings are great. I've already called guys from our business line saying: "I have very good thing for you, We need to meet them.". I think I have two or four meetings scheduled for next week with the startups from today.
Medicover, Maciej Malenda

You're at the event. How do you begin a conversation? If matchmaking is available, it's simple. But let's suppose you don't have the tool. The basic rule here is: don't complicate it in your head. Most of those people probably don't feel comfortable networking, just like you.

What to say, when you approach a person:
How do you like the conference?

What do you think about the conference?

Why did you come here?

What's your main goal?

Where did you come from?

What do you do?
After you ask what the person does, you'll most probably get a question "So, what do you do?". This is where you start your short pitch (2-3 sentences). You should end it with a question "Is it interesting to you?". Then you say "Let's exchange business cards". If it's interesting, tell you'll get in touch after the conference. If not, exchange business cards anyway and say "Let's exchange business cards. Who knows, maybe I'll need such services/products in the future".
How to behave, when you approach a group (min. 3 people, it's harder to stick to 2 people focused on the conversation):
Approach - stand next to the group and ask "Can I join?"

If the group is bored with the conversation, the focus will transfer to you immediately and you can take control by asking the questions above

If the group is engaged in the talk, just join the discussion by commenting some statements

If only part of the group is engaged in the conversation, it will most likely split and you will start talking to the other part

Never leave the group without saying "So let's exchange business cards"
The big advantage of groups is that you collect business cards much faster
How to end a conversation
If during the conversation you tell that you came here for networking, it's easier to end the discussion by saying "Okay, I'm going to go now. I wish you a successful conference. I'll talk to you later". If you haven't had the chance to say why you came here during the chat, all you need to respond is "You know, for me the conference is, above all, a great occasion to meet people from the industry. I'm very happy I got to meet you. I'm going to go now, so I'll talk to you after the conference/see you later during the conference/expo". It really is that simple, you just need to overcome the inside voice and fear that's stopping you. It's easier to sink into your smartphone and pretend to be busy, so you don't have to speak to anyone. But it won't give you clients - it just burns your time. Be proactive, keep stepping out of your comfort zone until it becomes a habit of yours.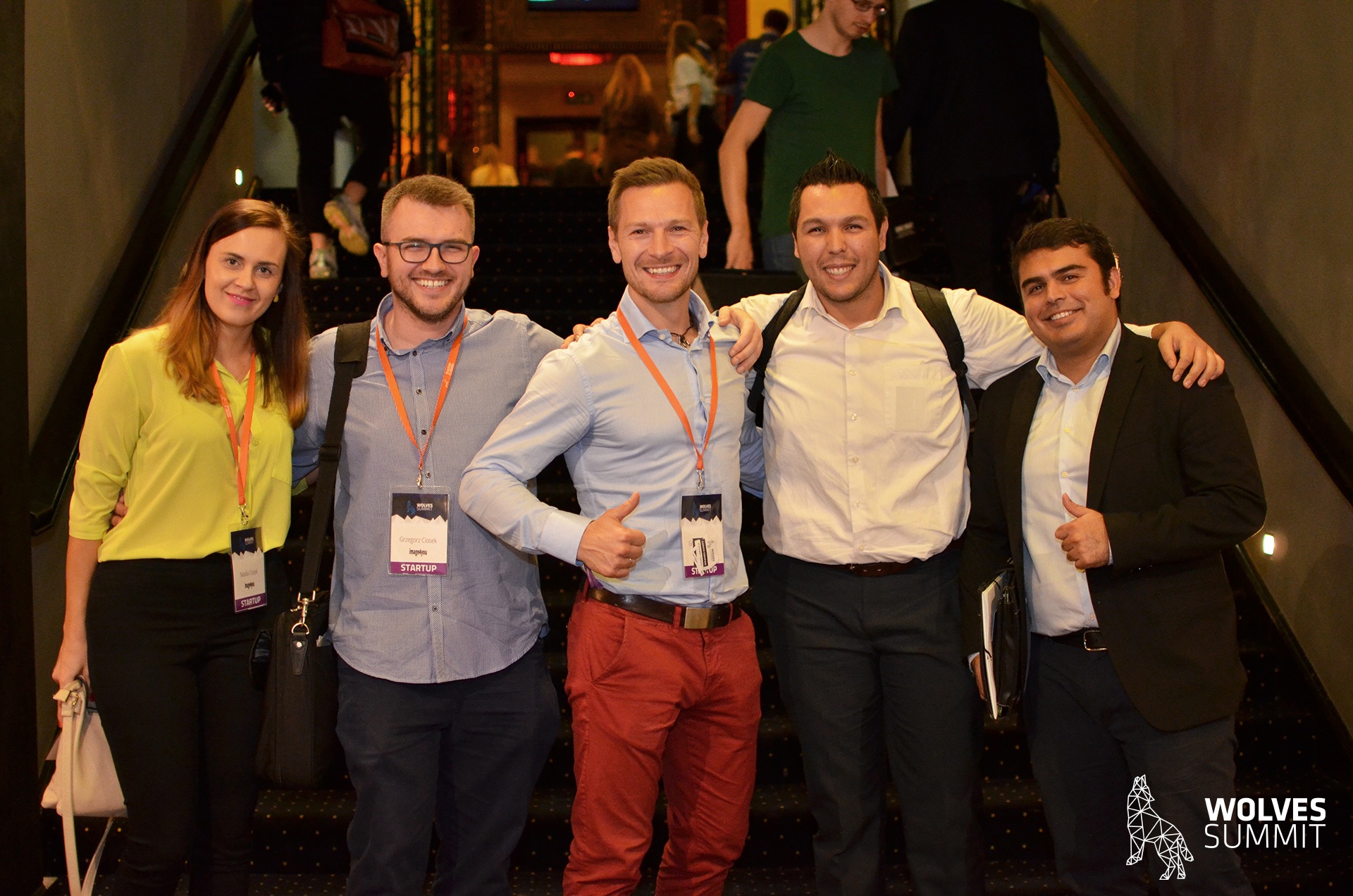 Good luck and happy networking!